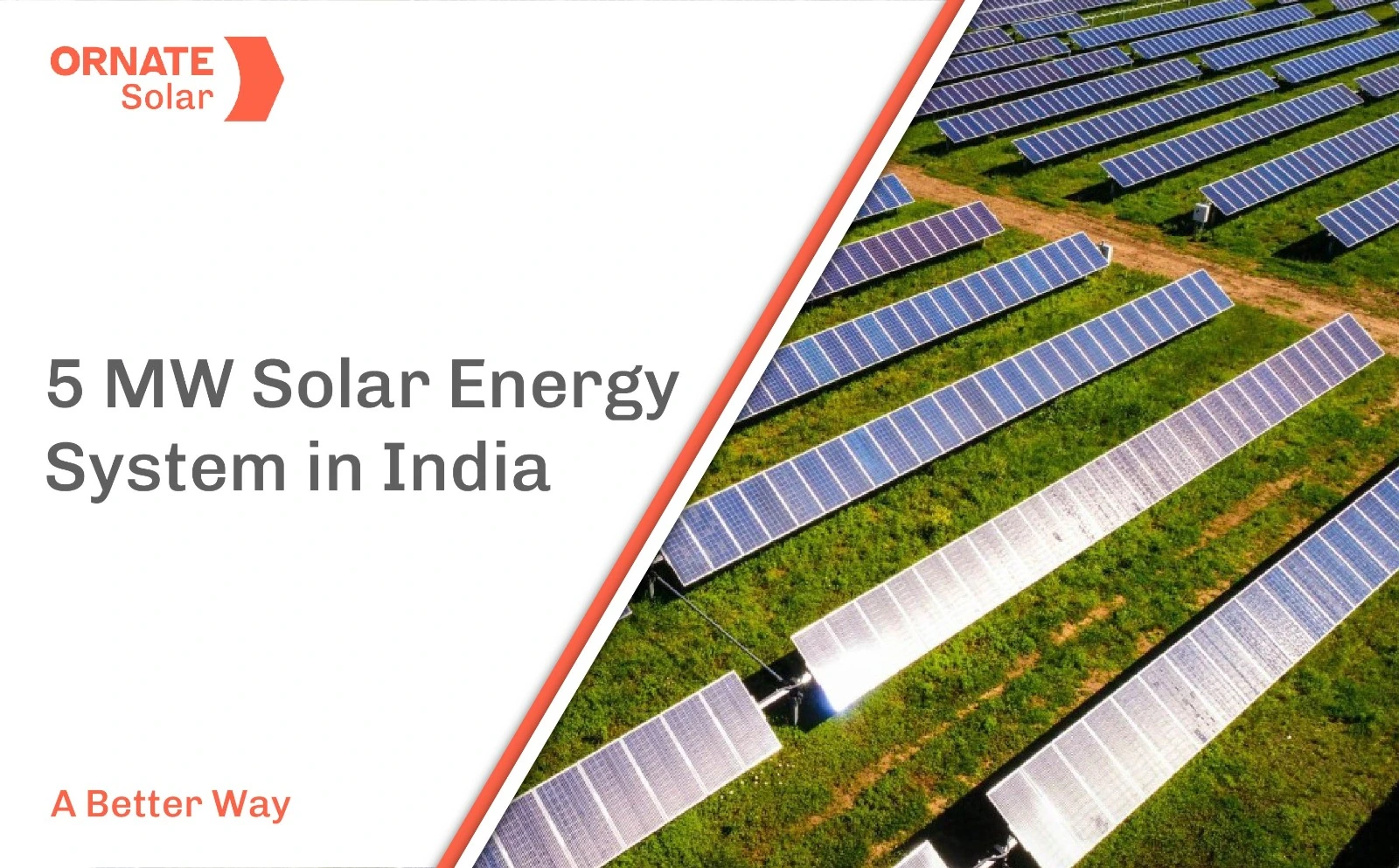 A 5 MW solar plant is massive!
In ideal conditions, it can power up to 1,250 homes. Or meet the complete electricity requirements of several businesses and industries. That's why it's a popular choice in commercial, industrial, and government sectors.
In this blog, we will discuss the specifics of setting up a 5 MW solar plant- everything from area, cost, generation, incentive, etc. But first, let's understand why solar is a worthwhile investment for businesses.
Benefits of Going Solar for Businesses
• Reduction in Energy Expenses
Businesses consume substantial amounts of electricity to support their daily operations, which leads to significant energy expenses.
Solar is one of the simplest ways to cut down this expense. This is because solar energy is one of the cheapest electricity sources in history, and it is not affected by issues such as supply crunch, political instability, etc.
• Low Maintenance
Solar plants are easy to maintain and often do not require anything more than regular cleaning. Most solar inverters today are equipped with a remote monitoring facility that allows you to check system performance and troubleshoot minor issues.
You can also schedule preventative checks every 6 months for longer plant life.
• Long Term Solution
Solar is a one-time investment with a shelf life of over 25 years. Moreover, you can recover your original capital within 4-6 years through energy savings. With solar, you get a resource that continues to power your building with clean and reliable energy for a long time.
• Higher ESG Rating
Investing in solar technology that is non-polluting and prevents carbon emissions can help you improve your business' ESG (Environmental, Social, and Governance) rating. This will make your organization more attractive to investors and consumers.
• Contribution to a Brighter Future
India has set an ambitious goal of developing 500 GW of RE capacity by 2030. The nation is also committed to achieving net zero emissions by 2070. Switching to cleaner and greener energy allows you to actively contribute to that goal and pave the way for a better future.
Cost of a 5 MW Solar Plant
The price of your solar plant hinges on various factors like the equipment brand, where it's placed, how the panels are positioned, your roof's style, and the type of installation.
Plus, the system type matters too. For instance, off-grid or hybrid PV setups can be pricier because they need battery backup.
But if we consider the average price of a 5 MW solar plant, it would typically fall in the range of ₹36-39/watt. So, your total system cost can be anywhere between ₹18-₹19.5 crores.
Energy Generation of a 5 MW Solar Plant
In ideal conditions, a 1kW plant generates 4 units in a day. By ideal conditions, we mean high solar irradiation, no extreme temperatures, and shadow-free installation.
With these calculations, we can say that a 5 MW solar plant generates approximately:
5000 x 4 = 20,000 units in a day
20,000 x 30 = 6, 00,000 units in a month
And 72, 00,000 units (72,000 MWh) in a year.
It's essential to remember that various factors like plant location, the equipment's quality, the weather, and how well it's maintained can impact how much energy your solar plant produces.
On a sunny day, it might generate as much as 6 units, but on a cloudy day, it could be as low as 1 unit. So, predicting the exact output of your solar plant can be tricky.
Government Incentives for 5 MW Solar Installation
Since this capacity falls under the commercial and industrial category, there is no subsidy for 5 MW solar installations. However, the Indian government still provides a 40% accelerated depreciation benefit to businesses.
This way, organizations can depreciate their solar asset at a significantly higher rate in a year, as compared to the traditional rate of 15%.
Types of Solar Installations You Can Go For
1. Ground-Mounted Solar
Due to the large capacity, most 5 MW solar plants are installed on the ground. Such a project requires anywhere between 20-25 hectares of shadow-free area.
Ground-mounted solar plants tend to remain cooler and more efficient. You can also employ the land space to grow crops underneath and generate additional income.
However, if you do not have large-scale land available, you can also opt for InRoof.
2. InRoof
InRoof is a solution that transforms solar panels into the primary roof. Modules are seamlessly integrated into the foundation of the building and the need for metal sheets is eliminated.
InRoof accommodates 26% more panels in the same space and offers better area utilization than traditional solar plants. And. the patented assembly of InRoof is fully leak and corrosion-proof.
Moreover, it is also endlessly scalable, which means you can essentially turn your roof into a solar farm!
Ornate Solar has successfully completed mega-watt scale InRoof projects across India. We recently finished a 1 MW project in Maharashtra and currently working on a 3.25 MW InRoof project for a leading company in Odisha.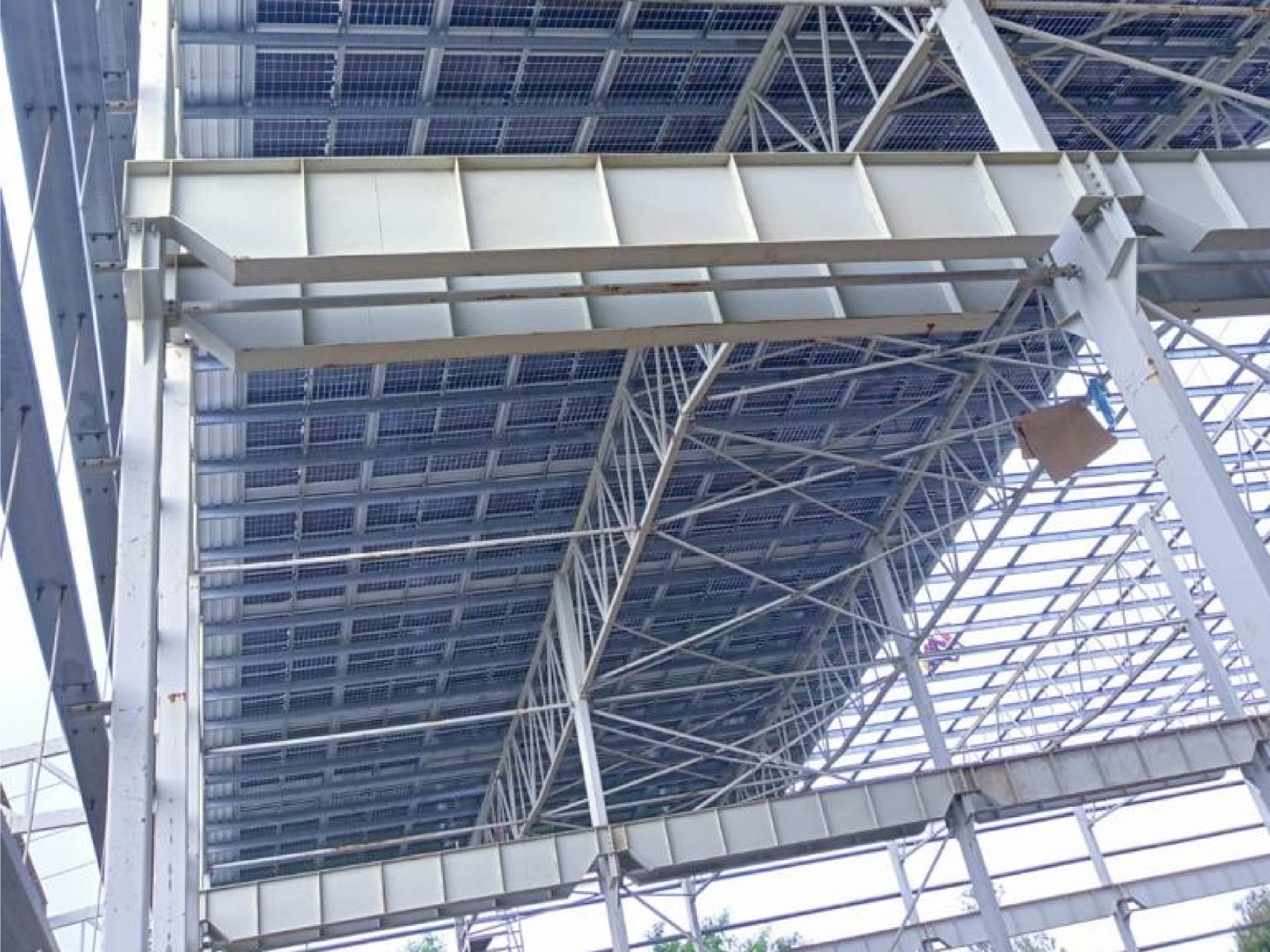 Frequently Asked Questions
1. How much area does a 5 MW solar plant require?
You will need approximately 20-25 hectares of shadow-free land area for a ground-mounted solar plant. With InRoof, a 5 MW capacity can be deployed in close to 30,000 sq.m. roof space.
2. What is the payback period of the solar plant?
The payback period will depend on multiple factors such as location, the technology used, the electrical tariff of the area, weather, etc. But generally, individuals can recover their initial investment in 4-9 years.
3. Is it difficult to maintain a 5 MW solar plant?
Not really. Just ensure that you clean the panels once in two weeks to maintain efficiency and monitor your PV performance regularly.
4. Can I avail net metering for the plant?
No. The Indian government allows net metering facility for up to 1 MW capacity only
About Ornate Solar
Ornate Solar is a leading solar company with 8+ years of experience in the industry and the mission to reimagine the way solar is installed worldwide.
By not only partnering with the best-in-class solar brands but also developing our high-quality solutions, (panels, inverters, accessories, InRoof), we develop and deliver solutions that are modern, reliable, and effective.
If you are looking for high-quality solar solutions, reach out to us at 011 43536666 to discuss your options.