Indian Hospitality Industry
The Indian tourism and hospitality industry has emerged as one of the most important development engines in the country's services sector. Given the country's rich cultural and historical legacy, diversity in ecosystem, terrains, and natural beauty spots, tourism in India has a lot of promise. Aside from being a substantial source of foreign cash, tourism has the potential to generate a big number of jobs.
In FY20, India's tourism sector employed 39 million people, accounting for 8.0% of the country's overall workforce. It is estimated to employ almost 53 million people by 2029.
According to the World Travel and Tourism Council, India placed 10th out of 185 nations in terms of total contribution to GDP from travel and tourism in 2019. In 2019, travel and tourism contributed 6.8% of the total economy's GDP or Rs. 13,68,100 crore (US$ 194.30 billion).
Market Size
In terms of digital tools used for planning, booking, and experiencing a journey, India is the most technologically advanced traveler nation. The rise of India's middle class and expanding disposable money have aided the expansion of both domestic and international tourism.
Foreign visitor arrivals (FTAs) in India reached 10.93 million in 2019, an increase of 3.5% year on year. Tourism-related FEEs climbed 4.8% year on year to Rs. 1,94,881 crore (US$ 29.96 billion) in 2019. e-Tourist Visa arrivals climbed by 23.6% year over year to 2.9 million in 2019. FTAs fell 75.5% YoY to 2.68 million in 2020, while arrivals via e-Tourist Visa (Jan-Nov) fell 67.2% YoY to 0.84 million.
The e-Tourist Visa capability was extended to people of 171 countries as of March 2021.
In April 2021, the United States had the highest percentage share of FTAs (26.85%), followed by Bangladesh (15.65%), Afghanistan (6.92%), the United Kingdom (5.87%), Nepal (4.59%), Canada (4.27%), Iraq (2.99%), Portugal (2.40%), Germany (1.42%), Russian Federation (1.41%), Maldives (1.39%), France (1.33%), Sudan (1.21%), and Korea (1.21%). (1.02%).
Bengaluru Airport (29.96%) had the highest percentage share of FTAs in India in April 2021, followed by Mumbai Airport (17.48%), Ahmedabad Airport (15.72%), Delhi Airport (9.21%), Cochin Airport (4.91%), Chennai Airport (4.04%), Hyderabad Airport (3.34%), Lucknow Airport (2.40%), Bhavnagar Seaport (2.37%), Kolkata Airport (2.11%), Calicut Airport (1.41%), and Amritsar (0.72%).
FTAs were 376,083 between January and April 2021, compared to 2.35 million between January and April 2020, a negative rise of -84.0 percent Y-o-Y owing to COVID-19.
International tourist arrivals are predicted to reach 30.5 billion by 2028, generating about US$ 59 billion in revenue. Domestic tourists, on the other hand, are projected to fuel growth following the pandemic.
International hotel chains are expanding their footprint in India, and by 2020, they will own a 47 percent share of the country's tourist and hospitality sector, rising to 50 percent by 2022.
According to the Federation of Hotel & Restaurant Associations of India (FHRAI), the COVID-19 pandemic cost the Indian hotel business more than Rs. 1.30 lakh crore (US$ 17.81 billion) in revenue in FY21.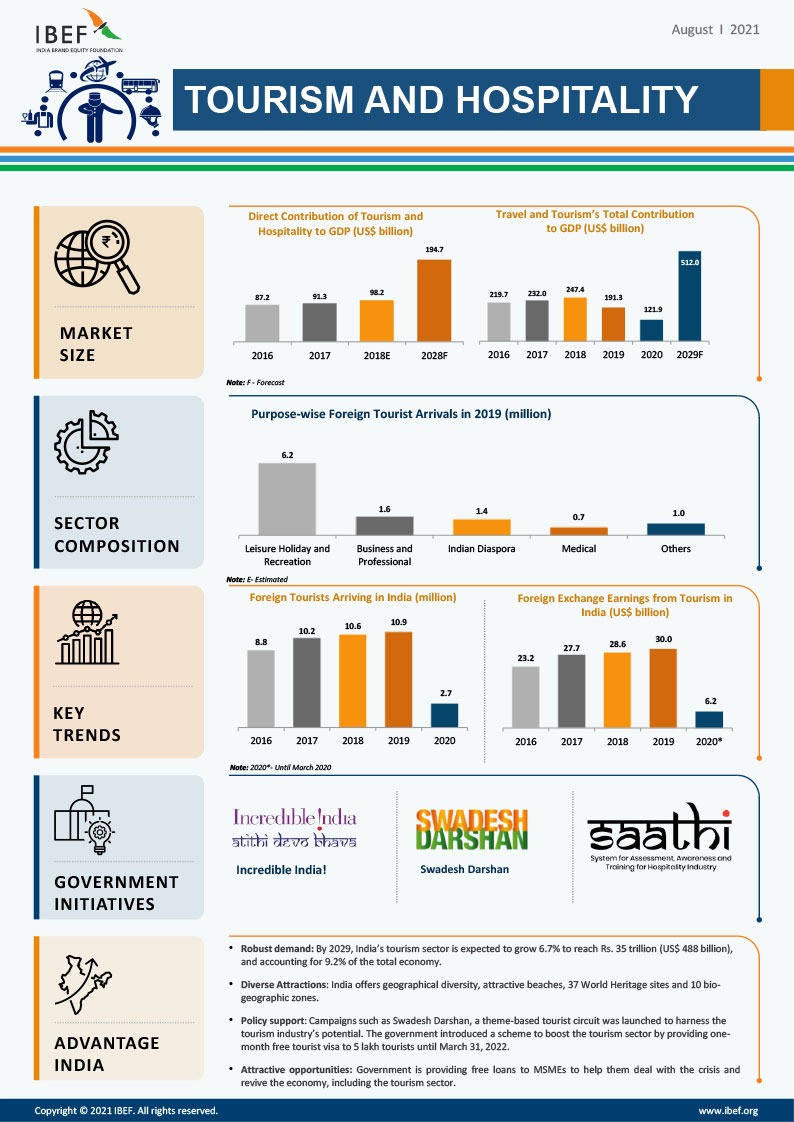 Energy Consumption
Typical electrical loads in a hotel include
Lighting
Electronic Entertainment
Refrigeration units
Air conditioning
Elevators and Escalators
The most energy-intensive load is usually air conditioning, which accounts for more than half of total energy consumption. In many sectors, air conditioning is not an essential load, but in many hotels, air conditioning is a vital load in guest areas. Hotels must also consider if the load is seasonal when assessing the load. If the solar system is sized for peak season, there is a risk of solar power going to waste in the off-season because the solar plant will generate power whenever there is sunlight, even if it is not needed – and unlike a diesel generator, costs are not saved by turning off a solar PV plant because the majority of the investment is made at the time of installation.
If the hotel is in a state that supports net metering, the solar plant can still be scaled for peak season loads because excess power generated during the off-season can be monetized according to the state's policy.
Advantages of Solar Energy in the Hospitality Industry
Hotels are one of the sites where power consumption is high. This not only results in a high electricity bill, but it also harms the weather. Solar products have benefited a wide range of industries to date, and they offer far more benefits than you may imagine. If you're still not convinced, consider the following advantages of placing them in hotels.
The use of solar energy in hotels will aid in the control of global warming and other associated environmental issues.
The installation of solar panels in hotels can allow you to save a significant amount of money.
The cost of installing solar panels and their pricing are both relatively low, and anyone may simply utilize them regularly.
Solar panels also offer energy security and the opportunity to store energy for later use.
The chance of a short circuit is decreased to nil when solar panel systems are installed, which is one of the main advantages of employing them.
How Can We Help?
Hope this information about "Solar Energy For Hospitality Industry" helps you to design your solar plant for the hotel as per your requirement.
If you are planning to start a solar business or install a solar solution, you can connect with Ornate Solar to get the best assistance with the best prices for solar panels and inverters. We are the official partner of Canadian Solar panels & Renewsys solar panels in India. We are also the official distributor of SolarEdge inverters with DC optimizers, Enphase microinverters, Fronius On-Grid Inverters, and Havells solar inverters in India.
For more information, please give us a call at 011 4353 6666.