Solar has become one of the most common sources of electricity, especially in the residential sector. Millions of homes around the globe are adopting this resource to slash their electricity bills.
But modern power needs are evolving.
Rather than roof-mounted solar panels that affect the aesthetics of a building, people are turning towards innovations like roof tiles and BIPVs. Consumers nowadays are looking for solutions that don't just produce energy but are also visually appealing.
Enter Elixir- a unique solar-powered pergola especially designed to meet the unique energy requirements of the residential sector!
What is Elixir?
Imagine this.
You have an open sunlit space on your lawn or over the terrace that is ideal for a solar plant. Now you are considering two options. Either directly mount solar panels, or set up a shed/pergola and install solar panels on the top so that you can still use the space.
However, both choices have their drawbacks.
Directly setting up solar panels might mar the architecture of your building. And, you would not be able to use the space underneath.
On the other hand, installing solar panels on the asbestos/metal sheet of the pergola would lead to a rise in the temperature of the panels due to a lack of airflow gap beneath. This in turn would bring down the generation.
Instead, you can opt for Elixir, a solar-powered pergola. It is a complete solution that transforms solar panels into the primary roof. This new and small-scale application of InRoof also reduces or removes the need for sheet roofing.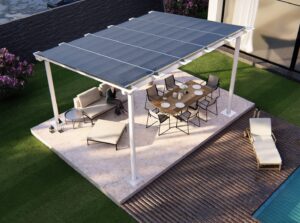 A pergola is an outdoor structure that provides just the right amount of shade and protection against the elements. A solar-powered pergola adds the additional benefit of reducing your electricity costs and carbon footprint.
The Elixir Advantages
1.Cost Effective
A solar-powered pergola pays for itself.
There is no stress about increasing your electrical consumption and setting up additional connections. Instead, you will be setting up a complete solution that is self-powering.
You can meet the electricity demand of your new structure through the solar energy being generated overhead. Apart from that, all remaining energy can effectively power your home appliances.
2. Space Utilization
With Elixir, you can turn an unused area into a sustainable spot with endless applications.
Be it a mini gym, a hangout spot for friends and family, a bar, a café, or a carport, this solution will make your space functional. Moreover, this new space will be modern and visually appealing and hardly require any maintenance.
Moreover, Elixir has an integrated drainage system and provides 100% protection against water ingress.
3. Easy to Assemble
The installation process of Elixir is easy. The structure can be set up within a day. This helps you save time, resources, and labour costs.
Moreover, due to its modular design, Elixir can be assembled by any professional anywhere.
4. Flexible design
Using Elixir, the specific location, whether rooftop or ground and the shape of the available space become irrelevant. It does not matter if you are setting up a small solar-powered gazebo, or a giant rooftop café.
The structure can be customized to fit all configurations and applications with ease. Additionally, it can accommodate all types of solar panels and inverters. And, all the components used are locally available.
5. Fully customizable
There is not much scope for aesthetics and customization in a regular solar installation. But with Elixir, it is easy to incorporate features such as skylights, curtains, fairy lights, etc. as per your requirements.
Moreover, Elixir offers limitless scalability. You can develop the Pergola in a size that suits your current needs. You can also effortlessly expand the structure to any desired size in the future.
Applications of Elixir
Currently, the three most popular applications of Elixir are:
1. Terrace Shed
A lot of people have sunlit terrace space that mostly goes unused. But they can generally utilize this area by turning it into a comfortable seating spot or a small room. The sustainable space will be shaded and leakproof.
Moreover, the space will be a few degrees cooler than a metal/asbestos shed.
2. Gazebo
You can use your open Lawn or backyard space to create a modern, energy-generating gazebo. The structure will allow you to fully utilize your open-ground space without compromising on aesthetics.
3. Carports.
With the influx of electric vehicles, carports have become increasingly common. What's not to like about an innovative parking space that can also charge your vehicle? Such carports can be expanded and used in offices as well.
How Can You Invest in Elixir?
Elixir is a unique application of India's first integrated solar roof, Ornate InRoof. It was developed by the R&D team of Ornate Solar.
We're a leading solar company with 8+ years of experience and the mission to revolutionize the industry with innovative, efficient solutions.
The patented product is fully made in India and comes with the industry's longest warranties.
If you are exploring a solar-powered pergola, reach out to us at 011 43536666 to discuss your options.