Buildings account for around 39% of the world's annual C02 emissions. This percentage includes not just the emissions from building operations but also the ones released in the production of building materials and the construction process.
In this scenario, the responsibility of buildings and the construction industry towards the environment shoots up considerably.
Enter BIPV or Building-Integrated Photovoltaics.
What are BIPV Systems?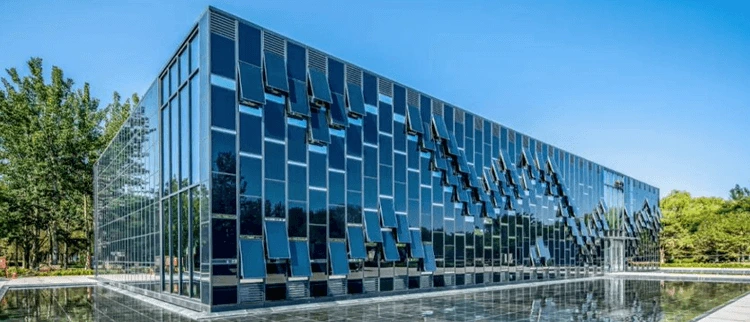 Imagine tall skyscrapers with a deep blue facade made out of Photovoltaics. Or a residential space with windows that can generate solar energy! BIPV is a technology that turns these futuristic ideas into a reality.
Building integrated photovoltaics use PV modules as building materials and incorporate them into the design of the structure. Through this technology, facades, roofs, walls, corridors, canopies, and many such large and small spaces can be transformed into sources of electricity generation.
You must be thinking, wouldn't it destroy the aesthetics of the building? But No!
By incorporating thin-film panels, bifacial cells, semi transparent cells, solar cell glazing, or conventional PV modules, BIPV structures provide a modern and futuristic appeal to buildings.
Why the Need for BIPV?
In this metropolitan world, with a population that has just crossed 8 billion, space has become a precious commodity. Many lack access to adequate land space to install large-scale solar energy systems. As a result, the demand for flexible and modern solar solutions is incredibly high!
BIPVs solve this problem by utilizing the underutilized building spaces to set up PV systems, which can either support the grid generation or power the entire building on its own.
BIPV in India
The development of BIPV technology in the country is at a nascent stage. However, the potential for growth in this sector is limitless.
India receives over 300 days of sunshine and has a solar potential of 5 quadrillion kWh per year. The Indian government is proactively introducing new initiatives and policies to promote solar adoption and encourage innovation in the industry. With land space becoming increasingly scarce, a technology like BIPV can be a boon to harness the abundant sunshine raining down on us.
The U-Solar CtrlS Data Center in Mumbai has installed the largest Building-Integrated Photovoltaic (BIPV) system in India. The 863kWp system covers over 51,500 sq. ft. of façade area of the building, with 2000 high-efficiency solar modules.
Advantages of BIPV Systems
1. Cost-Effective
BIPV systems are cost-effective. By replacing the building material with photovoltaics, you are essentially saving on the combined cost of material, mounting structures, and the labour involved in the installation of traditional PV systems.
2. Multifunctional System
While traditional solar energy systems play a single role of producing electricity, BIPVs are multi-functional. They also work as the primary roofs, windows, walls, etc.
3. Reduces Energy Consumption
These systems are equipped with translucent modules, allowing for plenty of light to come through during the day. Not only this, but they also help in keeping the interior cool, thereby saving on heating and lighting costs.
4. Better Space Utilization
Conventional solar power systems can only be installed in certain areas of buildings, which often limits their capacity. There is no such constraint in BIPVs that can be integrated into multiple different areas.
5. Aesthetically Pleasing
Solar panels are generally added as an addition to the building and mounted on elaborate structures that might clash with the building's architecture. Since BIPVs are customized as per the architectural design, it does not compromise on building aesthetics.
6. More Sustainable
Adding a clean energy solution helps to decarbonize a building. Additionally, the elimination of building materials like metal sheets and mounting structures helps further reduce carbon emissions
Applications of BIPV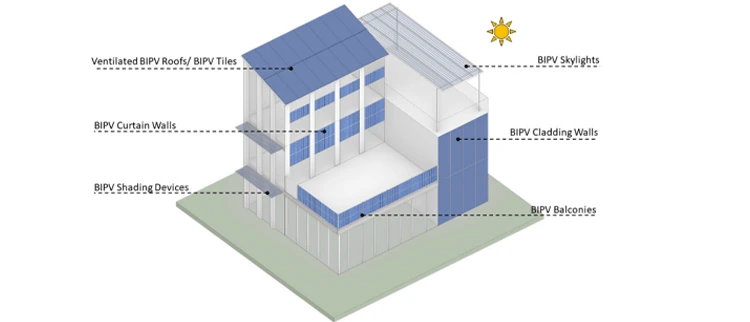 Source: The University of Applied Sciences and Arts of Southern Switzerland (SUPSI)
The application of BIPV is endless. If any area of the structure receives shadow-free sunshine, it can be used to generate clean energy. The above image provides an excellent example of this versatility.
However, the three most common applications of BIPV structures are:
1. Facade
U-Solar CtrlS Data Center in Mumbai
The sides of a building offer excellent real estate for generating power. Glass windows can be replaced by thin-film solar panels that generate electricity while letting light pass through them.
The biggest drawback of installing panels on the sides is that this part of the building might not receive as much sunshine as the rooftops. But, the availability of a larger area somewhat makes up for the problem.
2. Canopies
By integrating PV technology into canopies, you can turn them into areas that not only provide shade but also generate electricity.
Moreover, installing PV systems over parking lots can support EV charging, while solar-powered pergolas bring both function and aesthetic appeal.
3. Solar Roofs
The most common types of BIPVs in India are the solar roof, where solar panels are used as the roofing material. These solar roofs can be used for industrial units like factories, and warehouses along with large open areas such as playgrounds, cafeterias, waiting areas, etc.
The best solar roof available in the Indian market is Ornate InRoof– a first-of-its-kind integrated roof solution.
Ornate InRoof- A Futuristic Solar Roof
Ornate Solar has designed India's first integrated solar roof solution which eliminates the need for traditionally used sheet roofing. It is a roof made out of solar panels that serves as the primary waterproof roof for a building.
The system, which can be installed within a few days is perfect for new building set-ups. Moreover, businesses going for roof repair, can directly switch to a solar InRoof and save on the additional cost of roofing.
The InRoof Advantages:
1. Solar InRoof accommodates 26% more panels than a traditional PV system in the same area.
2. Special climate-resistant seal ensures a leak-proof structure and higher durability.
3. InRoof is fully customizable. Ornate Solar's in-house R&D team ensures that the structure is adapted to the consumer's roof style and design.
4. By eliminating sheet roofing and allowing space for airflow beneath the panels, the InRoof raises the power output by a minimum of 10%.
5. The structure is more sustainable than traditional systems, as it produces green energy and reduces carbon emissions that would have been generated during the production of the sheet roofing.
6. The structure comes with one of the longest warranties in the industry.
Ornate InRoof at BL Agro (A BIPV Case Study)
The largest Ornate InRoof was commissioned for leading FMCG brand B.L Agro, in Bareilly UP. For his fully automated new production facility, Mr. Ashish Khandelwal, M.D, B.L Agro, wanted an innovative system that helped in saving electricity costs without compromising on the design of the high-tech building.
Ornate InRoof met both conditions.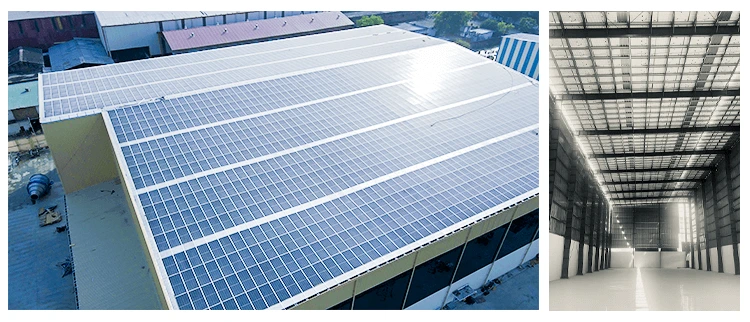 Here is an overview of the solar roof:
About Ornate Solar
Ornate Solar is India's leading solar company with 8 years of experience. We have also launched India's first integrated Solar InRoof, Ornate InRoof. We have a dedicated in-house R&D team that takes care of everything from, ideation, and design, to installation and support.
If you are looking for an InRoof solar solution for your business, reach out to discuss your options and get a quote.
For more information, give us a call at 011 4353 6666.