Smart Solar Monitoring System
Myth: Solar monitoring system is just an additional cost burden!!
Reality: Solar energy monitoring system provides live tracking and recording, thus enhancing solar system performance and rendering a high rate of return.
The cost of electricity is increasing day by day. The main reason for an increase in electricity costs is the ever-increasing energy consumption and traditional grid dependency; consumers are concerned about growing energy bills.
Switching to solar energy is a renowned and dependable energy solution because of the numerous economic benefits it provides over 25 years.
The solar panel's output is affected by variables such as voltage, current, and environmental factors. Though the solar energy system does not require much maintenance, real-time monitoring of the solar panels is a recommended practise to guarantee that the solar panels are working to their full capacity to reap the benefits of solar for a long time.
Smart solar monitoring systems that use the internet of things (IoT) allow for remote live tracking and recording of the operation of solar energy systems.
We've gone over smart solar monitoring systems and their relevance in solar energy systems in depth in this article.
Why use an Internet of Things (IoT)-based smart solar power monitoring system?
Solar energy systems are made up of interconnected components such as solar panels, inverters, batteries, and other components.
Solar panels' output changes depending on several environmental parameters such as solar radiation strength, shadow, meteorological conditions, and so on, and continual monitoring of these factors, especially for off-grid/remote solar energy systems, is a time-consuming task.
Why do we need a smart solar monitoring system when a solar inverter can do the job? I understand what you're thinking as a consumer.
The performance monitoring function of the solar inverter placed in the solar energy system is known, however these inverters do not enable real-time performance monitoring and recording
What is a Smart Solar Monitoring System, and how does it work?
A mix of hardware and software makes up the smart photovoltaic (PV) monitoring system.
It's an internet platform that uses sensors, data loggers, and other components to conduct real-time monitoring of the solar system.
The analyzed data is sent to a mobile application via the Internet of Things (IoT) for predictive maintenance and root cause analysis in the event of a failure.
The real-time monitoring data can also be used to do comparative analysis based on historical data and patterns.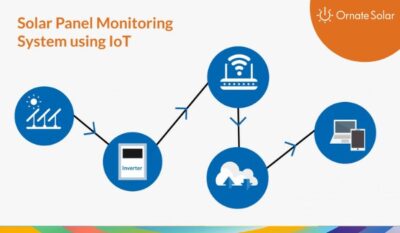 Solar monitoring functions that are smart
Monitoring in Real-Time: In the monitoring system, high-quality sensors such as pyranometers/irradiance sensors, temperature sensors, and environment sensors are built to sense and record real-time data.
The IoT-based solar monitoring system provides centralised remote monitoring and tracking of real-time performance data of solar assets, such as performance deterioration, downtime, losses, and other factors that contribute to generation losses.
Data Retrieval
The monitored data is saved in the system and can be retrieved at any time to determine the efficiency of the solar energy system.
Performance Graph
The smart photovoltaic monitoring system has a dashboard feature, which allows users to access all of the assets' data in one place via a cellular or desktop application. The recorded data is shown in the form of a graph, and daily, monthly, and weekly reports are sent through SMS or email (timely reports can be generated based on the necessity).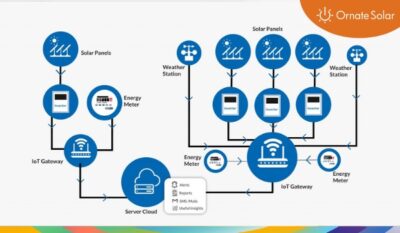 Fault Detection
In the event of a high temperature or fuse abnormality, the monitoring system has an alarming function (one can set the alarming function as per the parameter and location requirement)
Predictive Analysis
The data is analysed to track and monitor the real-time difference between expected and generated energy. This allows the client to make future decisions based on the prior data that has been recorded.
How do IoT based solar power monitoring devices work?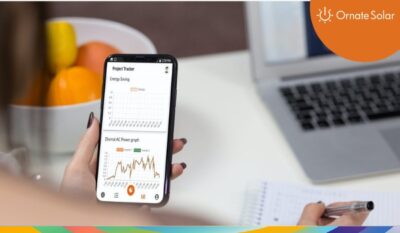 The rooftop solar energy system is made up of multiple solar panels that are linked together and convert solar radiation into direct current utilizing photovoltaic processes. The next step is to use an inverter to convert DC energy into AC energy (most domestic loads and grid-connected equipment operate on AC power).
The solar energy system is made up of several sensors that are installed in different locations to monitor and track the output of the solar panels.
Irradiation, ambient temperature, module temperature, wind speed, and other characteristics impacting the solar panel and its components will be measured by these sensors.
The generated data is sent to the IoT gateway, which then uploads it to the cloud for monitoring.
Through the monitoring application, the user and installer can readily access the data that has been uploaded to the cloud at any moment.
A well-versed system with continual connectivity, including the cellular/wifi network, is required to gain access to this ongoing data.
Proper network connectivity is a critical feature for the IoT-based solar energy monitoring system to perform properly and track data accurately.
For example, if a solar panel is shaded or soiled, the IoT-based system will communicate data to your device, allowing you to take preventative measures to improve the solar panel's effectiveness.
If you choose to use Inverters provided by Ornate Solar – Fronius, Enphase, SolarEdge – all have data monitoring systems which are efficient and can track generation of your solar power plant. You can speak with our technical tam, for more queries on the same.