Power Plant Monitoring Applications
So you got some new solar panels installed! You are now ready to begin generating sustainable energy for your home needs. But what if a significant portion of your generated energy is wasted and you have no idea why? Consider this: have you been utilizing all or almost all of the electricity generated by your solar panels?
The necessity for a solar monitoring application arises. This incredible breakthrough has implications for solar energy generation in the future. Remember that data is crucial. With the use of a solar monitoring app, solar clients can have access to this energy system data. This app assists in the generation of data that guarantees you get the most out of your solar energy.
So, in this blog we will explore following things:
What is solar monitoring application?

How Does it function?

Benefits of Solar Monitoring Application

Top Three solar monitoring applications
What is a Solar Monitoring Application?
The performance of your photovoltaic system can be monitored using a solar monitoring app. This program provides information about energy consumption and generation. As a result, the energy usage and any damage to the solar system are both optimized.
For maximum efficiency, your solar panels and accompanying systems must be monitored and maintained. Assume you have roughly ten small and large appliances connected to your solar panels at home. So, how can you figure out which machinery is consuming the most or least energy?
You can keep track of your energy usage with a solar monitoring app. This includes turning off any appliances that are not in use, which helps to save energy.
How Do These Applications Function?
The inverter linked to the solar panel provides data to solar monitoring systems. Solar inverters with trademarked and in-built monitoring software are available from several manufacturers.
The DC flowing from the panels is converted to AC for household usage by your solar inverters. The inverter then collects data on power levels and production. This information is subsequently forwarded to cloud-based power monitoring systems and related apps.
Homeowners have several options for accessing this information. This includes mobile applications as well as the smart devices that they are used with. On-site monitoring is available with some monitoring systems. They also connect the inverter's data to your home's power monitoring system.
Solar power systems with cellular capabilities can use the monitoring software. They give you instant access to data saved in the cloud from your mobile devices. It is not necessary to connect to the Wi-Fi network.
Even if your internet connection is lost, you may still get the data via the solar monitoring app. Unique power optimizers eliminate the need for a wireless connection to transfer data. In the event of an internet interruption, this enables seamless monitoring.
Benefits of Solar Monitoring Application
It's important to remember that solar monitoring applications aid in system maintenance. Let's take a closer look at some of its advantages.
Increased awareness of system operations
You may use solar monitoring applications to see how much solar power your system generates. Solar power is a renewable energy source, yet it is still limited by nature. It's because of things like gloomy weather or shadowed areas, which limit the sun's reach.
You must verify that your electricity use is not wasted. In the solar power plant, everything channels or is stored. This is for days when the amount of solar electricity generated is low.
If your photovoltaic cells produce less power than the norm, seek professional assistance. It could be due to a problem with your solar panels. The longer the life of your solar panels, the more conscious you are of your system. It also ensures that more solar electricity is generated.
Continuously Email Updates
For speedy notifications of system flaws, such monitoring tools use email alerts. This allows you to perform quick maintenance and avoid serious damage.
Data on the Go:
You have access to mobility because solar monitoring apps work with mobile devices. Customers get access to reports and statistics about the performance of their system.
The nicest part of having data access is getting rapid notifications regarding problems with your system. This will allow you to quickly book maintenance service providers. Data-on-the-go also allows you to monitor your household's electricity usage.
This is especially true when you are not at home and your basic appliances are on. This will assist you in determining which of your appliances consumes the least and most data.
Top 3 Solar Monitoring Applications
The fundamentals of solar monitoring applications have now been learned. Let's take a look at the top three solar monitoring applications on the market right now.
MySolarEdge Monitoring App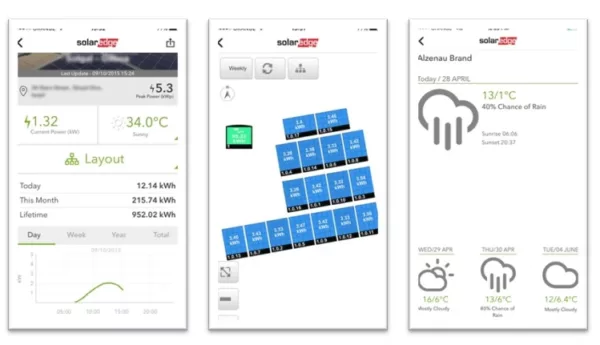 MySolarEdge monitoring app delivers an upgraded photovoltaic performance monitoring capability. It also helps with yield assurance by detecting defects quickly. It also sends out alerts at the module, system, and string levels.
There is no need for wiring or hardware for the transmission of solar panel data. This also concerns the power optimizer data going to the solar inverter. The transmitters & monitoring sensors connect with the power optimizer & solar inverter. They also measure data that is being transmitted via regular power supply lines.
The software can be used on tablets and laptops that have internet capabilities. You can also set up options to aid in the creation of automatic reports.
Pros:
Get real-time insight into your energy consumption and production.

Compare current production to previous data.

Mobile-friendly features help you keep track of your system's performance.

Remotely control your household appliances

Make sensible schedules to get the most out of your energy savings.

Control your electric vehicle charging from anywhere.
Features:
Current system energy measurement

Energy production monitoring in months, days, as well as lifetime

Power graph display

Site list and image

Weather data

Customized user preference configuration
How to Use the mySolarEdge Application
With the inclusion of three new capabilities, the mySolarEdge app mainly employs the same platform function and structure as the previous Monitoring app:
Change Wi-Fi password

View inverter status for inverters without an LCD screen

Access Support Centre
Fronius Solar.Web App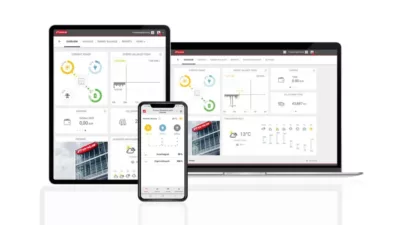 The FroniusSolar.Web App, which is available as a web and mobile app, is a unique choice for solar system owners. This application allows you to keep track of the PV system's energy yields.
To track your photovoltaics, download this app to your smartphone, iPad, iPhone, or tablet. You can also use Fronius' demo system to get a brief taste of what this program can achieve.
You can also acquire energy yield snapshots for whatever timeframe you like. Sustainability measures such as trees planted, CO2 saved, and money saved is also available.
Pros:
User-friendly display of the current energy flows

Display of the daily production and consumption curves of the last three days

Display of production and consumption on a daily, monthly and annual level over the entire life of the PV system

Detailed analysis options of the PV system over the entire life of the system

Easy management of a large number of PV systems

Automatic notifications and regular reports

Ohmpilot and storage simulation

Automatic updates of all Fronius system components
Features:
Available in a dark mode

Current value and energy curve are displayed

CO2 savings and energy yield are being analysed and evaluated.

Operation that makes sense

Historical data on energy use
How to Use Fronius Solar.Web App
The following are the prerequisites for utilising Solar.web:
Inverter from Fronius with built-in data connectivity (usually included as standard, otherwise easily retrofitted)
Fronius Smart Meter for Power Consumption Display
Visit www.solarweb.com to register.
There is a free Fronius Solar.web account available, as well as a paid premium edition for individuals who want to know every information.
Enphase Enlighten Application
The Enphase Enlighten app allows users to verify the status of their system without having to scroll. The app gives you access to vital information on the system's health and performance. This is true for every panel, no matter where you are.
With a single click, you can see the energy and per-panel production data. It also gives you a picture of your energy consumption and storage. This solar monitoring app's main component is actually web-based. This may necessitate viewing it on a laptop or desktop computer.
The newly released mobile application allows you to keep track of everything while on the road. This makes it simple for any system owner to make energy-saving decisions.
Pros:
Examine your energy usage and storage.

Individual panel fault detection monitoring

Allows you to examine the health of the system.
Features
Verification of system health and performance is simple.

Analysis of energy production by day, hour, or month

Analyze weather data performance (historical)

Reports on energy output and consumption
How to Use Enphase Enlighten Application
How Can We Help?
Hope this information about "Power Plant Monitoring Application" helps you.
If you are planning to start a solar business or install a solar solution, you can connect with Ornate Solar to get the best assistance with the best prices for solar inverters. We are the official distributor of SolarEdge inverters with DC optimizers, Enphase microinverters, Fronius On-Grid Inverters, and Havells solar inverters in India.
For more information, please give us a call at 011 4353 6666.