Looking to install a solar inverter for your solar project?
Don't know which one best suits your needs?
We have researched the best On-Grid solar inverters for you that will help you make a more informed decision. But before that for those who are still curious about what a solar inverter is, here is a brief overview of it:
A Solar inverter is a crucial component of a solar energy system. The device has one primary function- to convert the raw DC power produced by the panels into usable AC energy. There are two types of inverters, each with a different manner of performing the same primary function.
A String Inverter converts energy from the entire solar array at one central location.
A Microinverter converts DC into AC at the level of each module, leading to lower DC losses.
(Read the difference between string and microinverters here)
There is a solar technology in the market that falls right between the string and microinverters. Inverters with Power Optimizers extract the maximum current at the module level before transmitting it to a central inverter for conversion.
In this blog, we have shortlisted the best solar inverter brands from each category to make your choice easier.
Best String Inverter in India
Fronius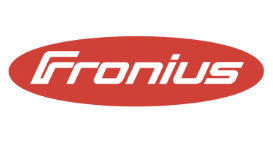 Fronius is a leading Austria-based company with over seven decades of experience in the solar energy sector. The company created the revolutionary SnapINverter technology which makes inverter installation and maintenance easier than ever.
With a portfolio of over 12GW installations worldwide, this brand has established itself as one of the leading names in the global solar industry.
Fronius manufactures single-phase (primo series) and three-phase (Symo, Eco and Tauro series) inverters, with output that ranges from 3kW- 100kW.
Features of Fronius Inverters
Efficiency of over 98%
Remote monitoring of solar energy systems with the Fronius app and online platform
IP-66 protection for the safety of the system
40% overloading capability
Active cooling system to ensure higher yield and longer lifespan
Dynamic feed-in management that lets you control the amount of energy fed to the grid.
Long warranty of 7 years with a 20-year extension option
Best Microinverter in India
Enphase Energy

Enphase Energy is the brand that introduced the world to innovative Microinverter technology. From Its India-based manufacturing facility, located in Sriperumbudur, Tamil Nadu, Enphase India has shipped over 10 million microinverters.
The best solar inverters by Enphase are the 1Q7 series of microinverters (IQ7 and IQ7A). These devices are equipped with burst mode technology that ensures energy generation even at low light conditions.
Features of Enphase Inverters:
Panel-level monitoring for a detailed overview of the system performance
Inverter efficiency up to 96.5%
Higher Reliability with no single point of failure
A lightweight solution that allows faster installation
Can be customized for different grid profiles
Elimination of the high voltage DC from the roof, makes for a safer system
Best Solar Inverters with Power Optimizers in India
SolarEdge
SolarEdge Technologies is an Israeli company that has established itself as a global leader in smart energy solutions. The organization pioneered the power optimizer technology which incorporates the best aspects of both worlds- string and microinverters.
Since its creation in 2006, SolarEdge has installed its system in over 133 countries. The company manufactures 4kW to 120kW single-phase, three-phase, and synergy tech inverters with power optimizers
Features of SolarEdge Inverters
Module-level power optimization that ensures higher energy yields
Advanced built-in safety features like integrated arc fault protection
Remote panel level monitoring which reduces operation and maintenance costs
99% weighted efficiency
Long 12-year warranty for inverters and 25 years warranty for power optimizers
Best Domestic Solar Inverter
Havells
Havells India Limited, a company established in 1958, occupies a large share of the Indian Fast Moving Electrical Goods (FMEG) market and has become one of the most trusted brands in the country.
In the solar space, Havells manufactures reliable on-grid solar inverters under its Enviro range. The power output ranges from 1kW to 255kW.
Features of Havells Inverters:
Inverter efficiency of up to 98.7%
A long warranty of 10 years
Web and app-based monitoring that is free for life
Easy installation and maintenance
BIS and IEC certified
Also Read: World's Top 5 Solar Inverter Manufacturers
Where Can You Buy Solar Inverters?
Ornate Solar is India's leading solar company with 8 years of experience. We are also the official distributor of Fronius, SolarEdge, Havells solar inverters, and Enphase Microinverters. If you are planning to buy solar inverters, you can connect with Ornate Solar to get the best prices.
For more information, please give us a call at 011 4353 6666.