The food industry is energy intensive. A study reveals that the agriculture and food industry consumes over 30% of global energy!
And, India is the world's second-largest food producer. Needless to say, the energy demand of the nation's food industry is extremely high. Moreover, businesses that operate their food processing factories have equally high energy expenses.
In this blog, we will analyze this demand and understand how solar energy can benefit businesses in this sector.
Energy Consumption of the Food Industry
All segments of the food processing industry require large amounts of energy for optimal functioning. Processes like washing and cleaning, cooking, cooling, extraction, pureeing, brewing, baking, pasteurizing, boiling, etc. in a factory require energy, which is often supplied by fossil fuels like coal and gas.
The chart below illustrates the various energy-consuming processes involved at each stage of the food industry.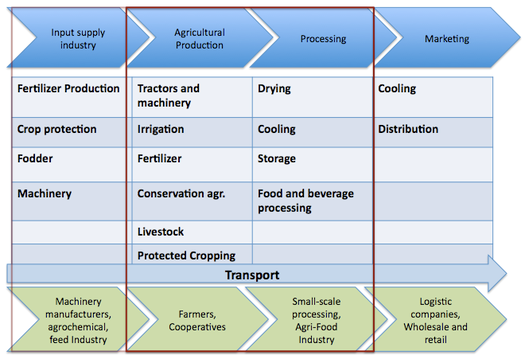 Here's a brief breakdown of the energy consumption of the most common processes involved in the food processing industry.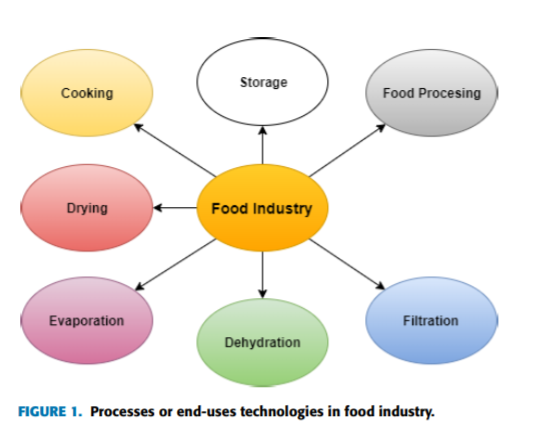 Drying refers to artificially drying cereals after harvesting and before storage and transport. The energy used is approximately 0.5-0.75 MJ/kg, which could be electricity, natural gas, or liquefied petroleum gas (LPG).
Storage consists of maintaining food at the proper temperature conditions to avoid degrading the quality of the product and provide both safe and high-quality foods. The typical machines used for storage in the food industry are energy-consuming and include refrigerators and freezers. Storage involves approximately 1-3 MJ/kg product of retail food products.
Food and beverage processing transforms agricultural products into food.
This stage requires energy for heating, cooling, and running machinery. The amount of energy needed is approximately 50-100 MJ/kg.
Food cooking involves applying heat to food. It consumes approximately 5-7 MJ/kg of energy.
Evaporation refers to partially removing water from liquid food via boiling. It consumes approximately 2.5-2.7 MJ/kg.
Other energy intensive processes include dehydration (reducing moisture from food) and (filtration separating solids from a suspension in a liquid).
Why Should the Food Industry Opt for Solar Energy?
We established that food industries have a high electricity demand which is mostly met through conventional energy sources like coal, petroleum, and gas. In this scenario, is it worth switching to a renewable energy resource like solar power?
Absolutely! Here's why:
Fossil fuels-based energy is expensive. In the last few decades, we have witnessed countless electricity tariff hikes. Solar energy on the other hand is much cheaper in comparison.
For perspective, if the electricity tariff in your area is around ₹8/ unit, the price of solar energy would be close to ₹3-4/unit or lower. Installing a solar power plant will help your business cut down almost 50% of your energy expenses right from the start.
While solar installation requires initial capital, you can recover this amount within 4-5 years. As the average lifespan of a solar plant can be anywhere between 25-30 years, you will essentially be saving money for the rest of the plant's life.
As solar energy is locally available, it is more reliable than fossil fuels. Moreover, a solar power plant hardly requires any maintenance apart from regular cleaning sessions.
Additionally, with battery-based systems you can store generated solar energy and reduce dependence on the utility grid.
Consumers, investors, and various stakeholders are increasingly choosing brands that are committed to sustainability. Sourcing your energy through clean energy sources like solar, can help in enhancing community goodwill and building a green reputation in the market.
5. Reduce Carbon Footprint
All the energy-intensive factory processes release a massive amount of carbon dioxide into the atmosphere. Opting for a clean energy source like solar will allow you to reduce the carbon footprint of your business.
Solar Installations at Food Processing Units
| Company Name | Location | kW |
| --- | --- | --- |
| Mittal Agro Industries | Hisar, Haryana | 117kW |
| Mathura Wala Foods | Palghar, Maharashtra | 130kW |
| Swastik Food | Kaithal, Haryana | 155kW |
| Arham Colloids | Hisar, Haryana | 397kW |
Ornate Solar is one of the leading solar companies in India. We have partnered with the best-in-class global solar brands to provide you with a trustable, affordable, and reliable range of solar panels, inverters, and solar accessories.
We have also developed India's first Integrated In-Roof system. Ornate InRoof is a roof made out of solar panels, which is leak-proof and looks aesthetically pleasing.
If you are exploring solar solutions for your food processing unit, reach out to us at 011 43536666 to discuss your options.