If one wants to measure the solar potential in Gujarat, they need not look further than Modhera. With more than 1300 rooftop solar systems over houses and government buildings, this tiny village in Gujarat has become the first-ever 24X7 solar-powered village in India.
Gujarat is India's sixth-largest state by land and ninth-most populous, with a population of more than 60 million people. It is one of India's richest and most well-run states, as well as a leader in the country's energy sector
The state is also breaking new ground in the field of renewable energy (RE) and has built an installed capacity of close to 20,000 MW in clean energy.
Gujarat's Solar Energy Portfolio
Gujarat is a semi-arid region that receives vast amounts of sunshine. The state government is making strides to harness this geographical advantage.
The north western state has achieved an installed capacity of around 7782 MW. The state currently occupies the 2nd spot in the list of the top solar-powered states in India. And there's more. Despite having just 5% of the nation's population, Gujarat houses approximately two-thirds of the residential solar energy systems in India.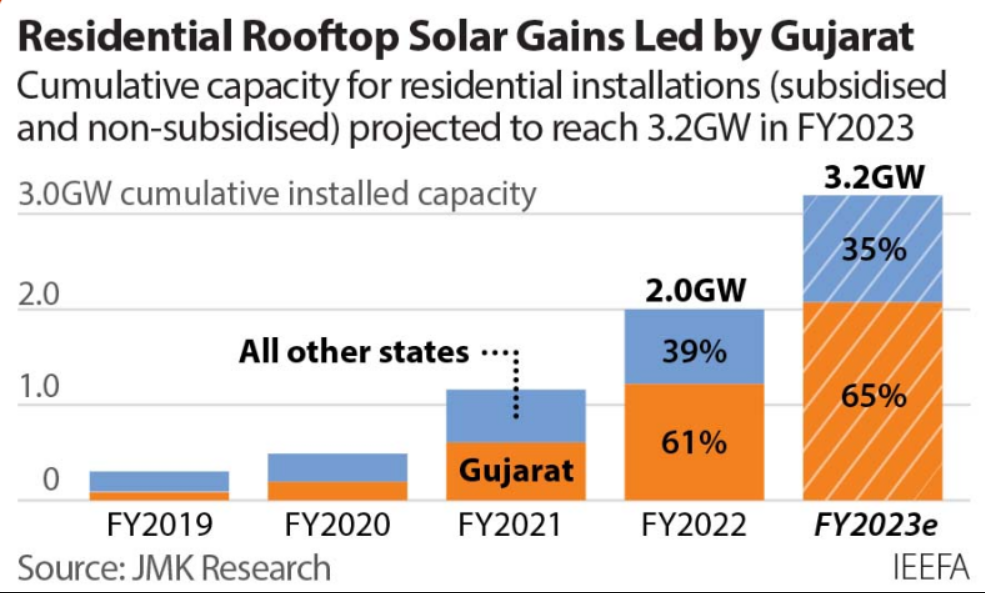 The boom in rooftop solar installations in Gujarat can be traced back to the favourable policies introduced by the state. In 2019, the Gujarat government introduced the Surya solar subsidy scheme to develop 1.6GW of solar rooftop capacity by March 2022.
Though the target was not met, between 2019 and March 2022, the state was able to grow its rooftop solar segment from 0.085GW to 1.2GW.
Gujarat is also building the world's largest renewable energy park with a capacity of 30,000MW. This park, which would mix both solar and wind energy, would help mitigate 5 million tonnes of carbon emissions every year.
Gujarat Solar Policy 2021
In 2021, the Gujarat government introduced a new solar policy with the aim to encourage solar transition among consumers from all sectors. The major highlights were:
1. The capacity ceiling was removed from all types of solar projects
2. Consumers were permitted to lease their roofs or premises for solar power generation to a third-party developer.
3. The policy provides net-metering facilities to residential and MSME consumers. For the initial five years of the installation, the state government will buy the surplus power at a fixed solar rate of ₹2.25/unit. After this period, the rate will be 75% of the latest tariff discovered and contracted by Gujarat Urja Vikas Nigam Limited (GUVNL) through a competitive bidding process.
4. The policy estimates the savings for different types of consumers:
•
Residential
: ₹1.77 – ₹3.78 per unit
•
Industrial and commercial (captive consumption)
: ₹2.92 – ₹4.32 per unit
•
Industrial and commercial (third-party sale)
: ₹0.91 – ₹2.30 per unit.
Solar Subsidy in Gujarat
Solar Subsidy for Residential Rooftop Solar Installations
Residential Rooftop Solar Installations above 3 kW and up to 10 kW will receive a 40% subsidy for the first 3 kW and a 20% subsidy for the additional kW. Any installation over 10 kW will receive a 40% subsidy for the first 3 kW and a 20% subsidy for the remaining 7 kW, but there is no subsidy for installations that exceed 10 kW. 
This incentive can be availed from the National Portal for Rooftop Solar launched by the Indian Government. 
Solar Subsidy for Farmers
In 2022, the Gujarat government launched the Suryashakti Kisan Yojana, which allows farmers to set up solar panels on their farms and double their income. Farmers will also be able to export the surplus energy back into the grid.
Farmers will receive a 60% subsidy on the cost of the project. 30% of the cost would be provided as a loan, with a 4.5-6% interest. The remaining cost would be borne by the farmers.
Under the scheme, the farmers will get electricity at a rate of ₹7/unit for the first 7 years, and ₹3.5/unit for the remaining years.
Solar Potential for Businesses in Gujarat
In recent years, many reputed established organizations have announced plans to invest in the renewable energy sector of the state.
– Reliance Industries Limited (RIL), India's largest commercial conglomerate, has announced a major foray into the renewable energy sector, including generation and equipment production. RIL plans to invest Rs 600 billion in these projects over the next three years.
– Jamnagar would also be home to a 5,000-acre Dhirubhai Ambani Green Energy Giga Complex. It will have four giga-factories that will produce solar photovoltaic modules, energy storage batteries, fuel cells, and electrolyzers.
– Adani Solar, India's largest solar cell and module maker, is boosting its manufacturing capacity from 1.5 GW to 3.5 GW in tandem with RIL.
A favorable solar policy is essential for companies to realize the benefits of solar investment. Gujarat, in particular, has enacted such a policy. Commercial and industrial businesses in the state can export excess energy generated by their solar system into the grid at a defined solar tariff thanks to the net-metering option available under the state's solar policy.
Businesses in the state may also take advantage of 40 percent accelerated depreciation and a 10-year tax break on solar projects under the scheme. All of this adds to the savings and benefits that solar may provide for businesses in the state.
Solar Installations in Gujarat
| Company Name | Industry | Plant Size (kW) |
| --- | --- | --- |
| Shankus Waterpark & Resort | Amusement & Water Park | 910.8 kW |
| Spunweb Non-Woven Pvt Ltd | Textile Industry | 500 kW |
| Bhagwati Flour Milling Pvt.Ltd | Flour Mill | 165kW |
| Shovi Industries | Textile Industry | 103kW |
| Tilak Poly Pack Pvt Ltd | Plastic Manufacturing | 55kW |
About Ornate Solar
Ornate Solar is India's leading solar company with 8 years of experience. By partnering with the best-in-class global solar brands, we bring the most reputed solar panels, inverters, and solar accessories to you and make your shift to solar cost-effective and easy.
We have also developed India's first Integrated In-Roof system.
Ornate InRoof
is a roof made out of solar panels that is fully leak-proof and looks aesthetically pleasing.
We deliver across India.


If you are exploring solar solutions , reach out to us at 011 4353 6666 to discuss your options.