The Top Solar States in India (2023)
Last year, the Indian renewables sector made numerous strides forward, with Prime Minister Narendra Modi committing to a new goal of net-zero carbon emissions by 2070. The country's green power capacity continues to grow, and the country's two wealthiest businessmen announced plans to invest thousands of crores in the field.
India has met its nationally defined contributions objective with a total non-fossil-based installed energy capacity of 160GW, or 40.1% of total installed electrical capacity, while still aiming for 170 GW by 2022. As of June-end of 2022, solar, wind, and hydropower accounted for 57.71 GW, 40.79 GW, and 51.74 GW, respectively. In the Union Budget for FY 2023, the country's solar sector, which was recently named fifth among the world's most attractive solar markets by IBEF, received the highest-ever outlay of Rs. 33.7 billion, up 30% from Rs. 26 billion in FY21.
Rajasthan — 16.06 GW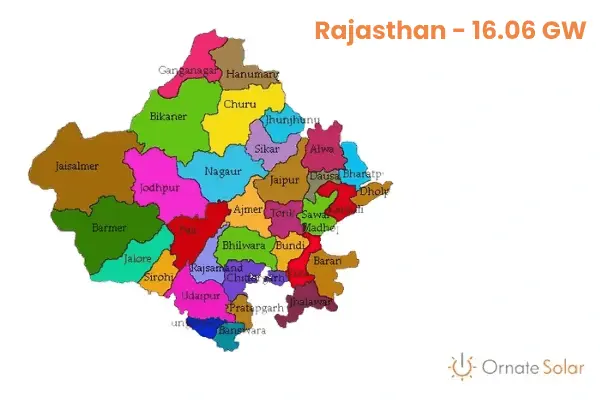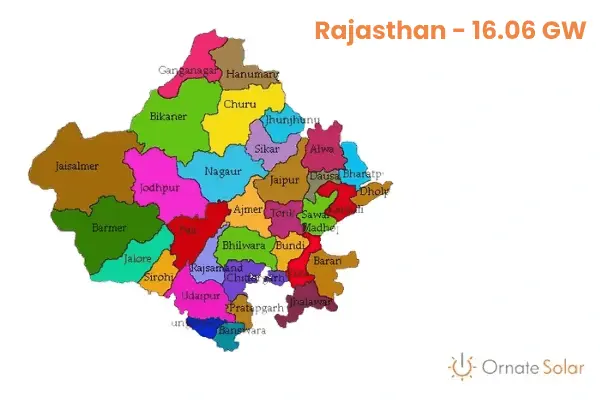 Rajasthan has the highest solar power generation potential of any state in the country. The state recently surpassed Karnataka as the leading state in solar installations. As of December 2022, Rajasthan's operational solar power projects produced roughly 16,060 MW of solar energy. Rajasthan plans to install 30,000 MW of solar energy capacity by 2025.
With a capacity of 2,245 MW of installed solar energy, the 14,000-acre Bhadla Solar Park in Jodhpur is now the world's largest fully operational solar park. Rajasthan is also home to India's only solar thermal power plant with a tower.
Plans for a 25,000 MW ultra-mega renewable energy facility have been disclosed by the national government. During the first phase of the project, 10,000 MW of solar generating capacity will be installed throughout the state over the following three years.
In the past months, the state has witnessed investments in major solar power projects.
In October 2022, Coal India and ONGC announced plans to develop over 1GW capacity solar projects. In January 2023, the Indian president laid the foundation for another 1 GW solar project in Bikaner, Rajasthan.
Gujarat — 8 GW
Solar energy accounts for around 8044 MW of Gujarat's total renewable energy production of 19,414.8 MW. The state has set a target of raising its renewable energy capacity to 68,000 MW by 2030.
In the solar sector, Gujarat recently overtook Karnataka to become second largest solar producing state in the country. It occupies a 13% share of India's total solar capacity. Moreover, the state accounts for 25% of the nation's total rooftop capacity. The Charanka Solar Park in the Patan district, which now produces 600 MW, has Gujarat's single-largest solar power-producing capacity.
Gujarat has recently identified 1,00,000 hectares of wasteland in the Kutch district to build the world's largest renewable energy park with a 30,000 MW capacity. This project would be a mix of solar and wind power.
Karnataka — 7.8 GW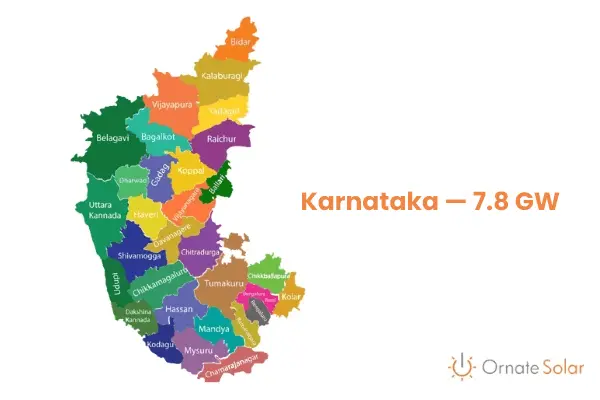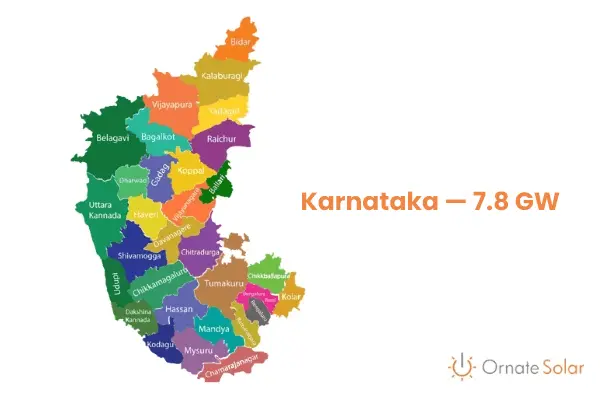 Karnataka, in India's southwest, is the state is the third largest producer of solar energy in India. Karnataka has a total installed solar power capacity of around 7,860 MW – not including the 1,000 MW of projects in the queue.
The Pavagada Solar Park (or Shakti Sthala) in the Tumakuru district of Karnataka is India's second-biggest solar power plant, having previously been the world's largest with a production capacity of 2,050 MW.
In the districts of Bidar, Koppal, and Gadag, three more ultra-mega solar power plants, each with a capacity of 2,500 MW, are expected to be built.
Tamil Nadu- 6.2 GW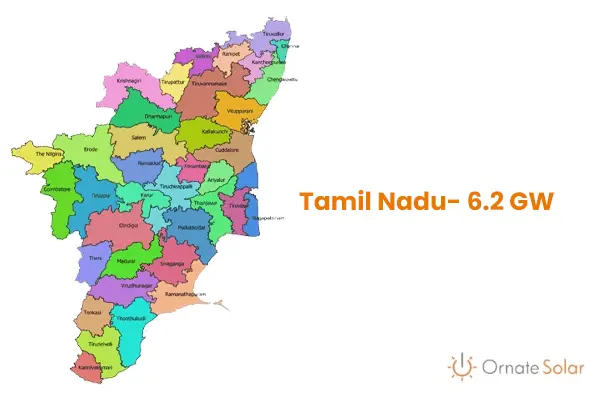 The southern state of Tamil Nadu has immense renewable energy potential, with access to sources such as wind, solar, biomass, biogas, hydropower, etc. As of January 31st, 2022, the total renewable capacity of the state was 15,914 MW.
Tamil Nadu ranks 4th in solar power capacity. Tamil Nadu's total solar capacity increased to 6233 MW as of September 2022, from 2,575 MW as of March 31, 2019.
Moreover, the Tamil Nadu Generation and Distribution Corporation is planning to install solar power plants with a total capacity of 20,000 MW by 2030. The projects will require a total investment of Rs. 70,000 crores.
Telangana — 4.6 GW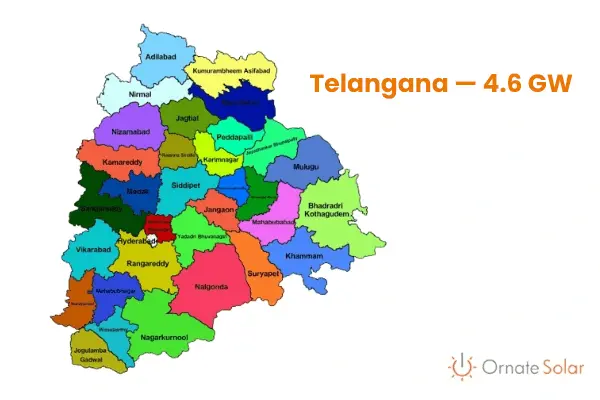 Telangana, India's southernmost state, ranks fifth in terms of solar power generation capacity. Telangana ranks 2nd in terms of solar power capacity per unit area of landmass.
Telangana's total installed solar energy capacity is 4637 MW, as of September 2022. This comprises both freestanding and grid-connected rooftop solar units. The total renewable energy capacity of the state is 4919. 19 MW.
The state also chose a distributed solar installation plan, which has resulted in savings of almost 450 crores. Telangana has dispersed these initiatives throughout more than 180 localities rather than concentrating them in a single location. The state is also home to the largest floating solar PV plant in India with a 100 MW capacity.
| Rank | State | Solar Capacity | Prominent Solar Plant |
| --- | --- | --- | --- |
| 1 | Rajasthan | 16.06 GW | Bhadla Solar Park |
| 2 | Gujarat | 8 GW | Charanka Solar Park |
| 3 | Karnataka | 7.8 GW | Pavagada Solar Park |
| 4 | Tamil Nadu | 6.2 GW | Kamuthi Solar Power Project |
| 5 | Telangana | 4.6 GW | Ramagundam Floating Solar Project |
About Ornate Solar
Ornate Solar is one of the leading solar companies in India. We have partnered with the best-in-class global solar brands to provide you with a trustable, affordable, and reliable range of solar panels, inverters, and solar accessories.
We have also developed India's first Integrated In-Roof system. Ornate InRoof is a roof made out of solar panels, which is leak-proof and looks aesthetically pleasing.
If you are exploring solar solutions for your healthcare center, reach out to us at 011 43536666 to discuss your options.