The Top Solar States in India
Last year, the Indian renewables sector made numerous strides forward, with Prime Minister Narendra Modi committing to a new goal of net-zero carbon emissions by 2070. The country's green power capacity continues to grow, and the country's two wealthiest businessmen announced plans to invest thousands of crores in the field.
India has met its nationally defined contributions objective with a total non-fossil-based installed energy capacity of 157.32GW, or 40.1% of total installed electrical capacity, while still aiming for 170 GW by 2022. As of December 31, 2021, solar, wind, and hydropower accounted for 48.55 GW, 40.03 GW, and 51.34 GW, respectively. In the Union Budget for FY 2023, the country's solar sector, which was recently named fifth among the world's most attractive solar markets by IBEF, received the highest-ever outlay of Rs. 33.7 billion, up 30% from Rs. 26 billion in FY21.
Karnataka — 7.1 GW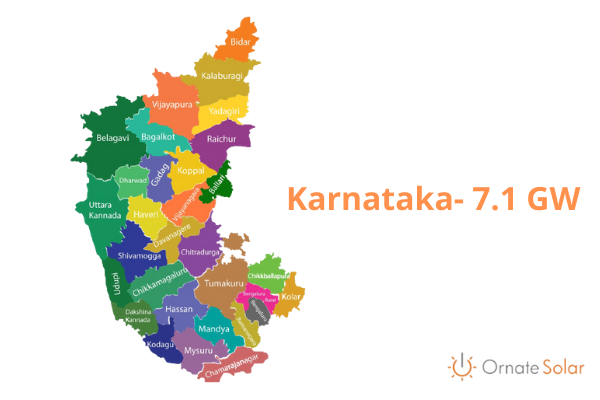 Karnataka, in India's southwest, is the state that produces the most solar energy. Karnataka is far ahead of the other states, with a total installed solar power capacity of around 7,100MW – not including the 1,000MW of projects in the queue.
The Pavagada Solar Park (or Shakti Sthala) in the Tumakuru district of Karnataka is India's second-biggest solar power plant, having previously been the world's largest with a production capacity of 2,050MW.
In the districts of Bidar, Koppal, and Gadag, three more ultra-mega solar power plants, each with a capacity of 2,500MW, are expected to be built.
Telangana — 5 GW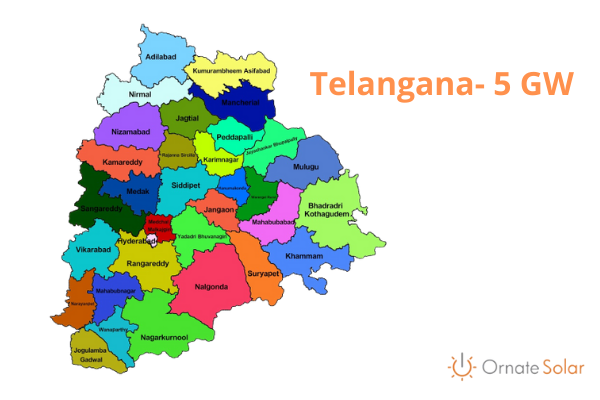 Telangana, India's southernmost state, ranks second in terms of solar power generation capacity.
Telangana's total installed solar energy has achieved around 5,000MW, a figure it had set for itself by 2020 after the split of Andhra Pradesh in 2014. This comprises both freestanding and grid-connected rooftop solar units.
The state also chose a distributed solar installation plan, which has resulted in savings of almost 450 Indian rupees crore. Telangana has dispersed these initiatives throughout more than 180 localities rather than concentrating them in a single location.
Rajasthan — 4.4 GW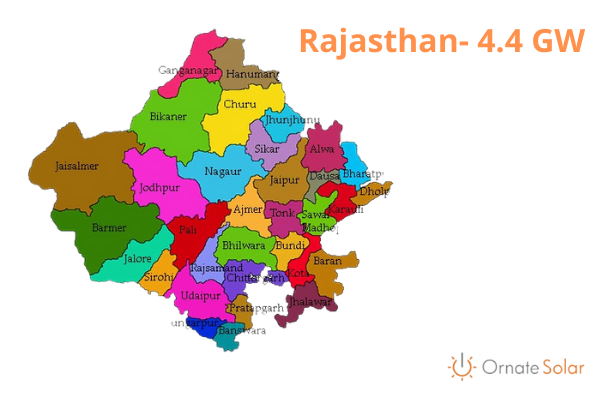 Rajasthan has the highest solar power generation potential of any state in the country, although it lags behind Karnataka and Telangana.
As of November 2019, Rajasthan's operational solar power projects produced roughly 4,400MW of solar energy, with 1,900MW more in the pipeline. Rajasthan plans to install 30,000MW of solar energy capacity by 2025.
With a capacity of 2,245MW of installed solar energy, the 14,000-acre Bhadla Solar Park in Jodhpur is now the world's largest fully operational solar park. Rajasthan is also home to India's only solar thermal power plant with a tower.
Plans for a 25,000MW ultra-mega renewable energy facility have been disclosed by the national government. During the first phase of the project, 10,000MW of solar generating capacity will be installed throughout the state over the following three years.
Andhra Pradesh — 3.47 GW
Andhra Pradesh claims to be India's second-largest renewable energy state, with roughly 10% of the country's clean energy capacity.
The state's cumulative capacity of commissioned solar power generation is more than 3,470MW, making it fourth on the list, with solar and wind projects totaling around 7,700MW. In the Kurnool district, the region is home to a 1,000MW ultra-mega solar farm.
Andhra Pradesh's government is planning a 10GW mega solar power project in response to the state's escalating energy needs. It plans to provide the agricultural industry with free, continuous power.
Gujarat — 2.654 GW
Solar energy accounts for around 2,654MW of Gujarat's total renewable energy production of 9,670MW. By 2022, the state intends to increase its renewable energy capacity to 30,000MW.
It ranked first in India for domestic rooftop solar installations in March 2020, with 50,915 installations, or nearly 64% of the country's total of 79,950.
Gujarat is aiming for a solar energy capacity of 8,024MW by 2022, with 3,200MW coming from rooftops, to complement India's ambition of adding 100GW of solar power, of which 40GW is planned through solar rooftops. The Charanka Solar Park in Patan district, which now produces 600MW, has Gujarat's single-largest solar power-producing capacity.
How Can We Help?
Hope this information about "Top Five States for Solar Power Generation Across India" helps you.
If you are planning to start a solar business or install a solar solution, you can connect with Ornate Solar to get the best assistance with the best prices for solar panels and inverters. We are the official partner of Canadian Solar panels & Renewsys solar panels in India. We are also the official distributor of SolarEdge inverters with DC optimizers, Enphase microinverters, Fronius On-Grid Inverters, and Havells solar inverters in India.
For more information, please give us a call at 011 4353 6666.