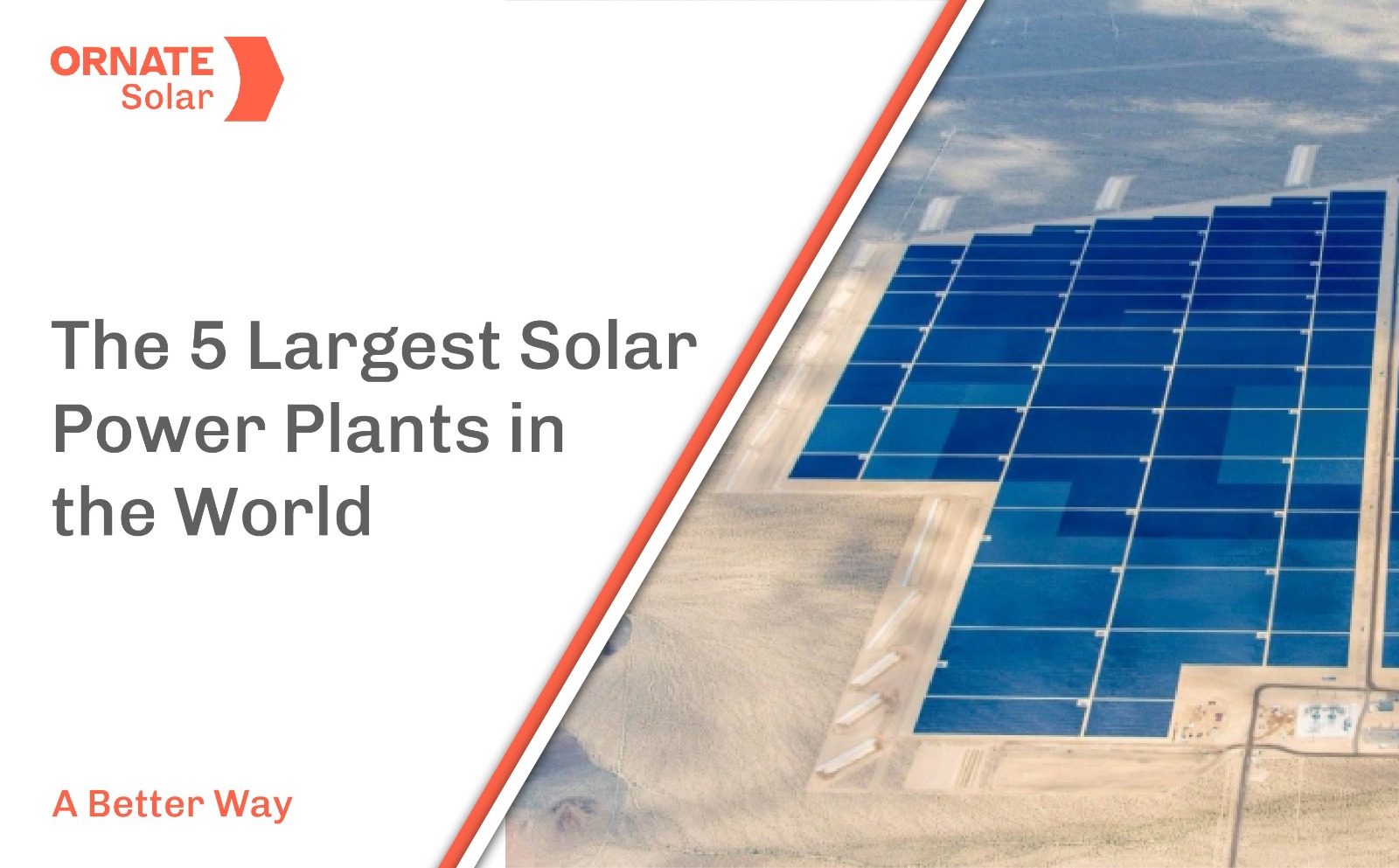 The world is undergoing a global energy transition. Countries are scrambling to build their renewable energy capacity to reduce their dependence on conventional power sources such as coal, oil, and natural gas, which are unpredictable and incredibly unsustainable.
According to an IEA report-global investments in solar power are expected to overtake oil outlay for the first time in 2023!
Presently, China is leading the world in solar energy generation with an installed capacity of over 400 gigawatts. However, many nations have set ambitious solar targets for the future and are building large-scale power plants to fulfill their energy needs.
Here are the top 5 largest solar power plants in the world:
1. Bhadla Solar Park, India
Location: Rajasthan, India
Installed Capacity: 2245 MW
Bhadla Solar Park is the largest solar farm in the world. The facility, spanning over an area of 14000 acres, is located in the Jodhpur district of Rajasthan.
The solar farm has a capacity of 2.25 GW and required an estimated investment of over 1.3 billion dollars.
Commissioned in 2017, the massive solar project contains over 10 million solar panels. It was developed in four phases under the Ministry of New & Renewable Energy (MNRE) scheme, in line with the Rajasthan Solar Energy Policy, 2011.
The plant harnesses the dry heat of India's desert state of Rajasthan to produce clean renewable energy.

2. Huanghe Hydropower Hainan Solar Park- China
Location: Qinghai province, China
Installed Capacity: 2200 MW
The Huanghe Hydropower Hainan Solar Park is located in the remote Qinghai province of China. It is the largest solar facility in the country, with an installed solar capacity of 2.2 GW.
The facility was created by Huanghe Hydropower Development- a state-owned power generation company and required an investment of approximately 2.3 billion dollars. The massive plant boasts a storage capacity of 202.8 megawatts.
Developed in 5 phases, the plant is spread over an area of 564 acres and became operational in 2020.
Currently, there are plans to expand the solar capacity of the park to 10 GW.
3. Pavagada Solar Park, India
Location: Karnataka, India
Installed Capacity: 2050 MW
The Pavagada Solar Park is in the Tumkur district of Karnataka, India. The 2.05 GW facility spans an area of 13000 acres and was developed by Karnataka Solar Power Development Corporation (KSPDCL).
A giant 2 billion dollar investment was made for the construction of the plant. The solar park was commissioned in December 2019.
Karnataka is considered India's top solar state, with solar energy constituting approximately 22% of the total power capacity of Karnataka.
4. Benban Solar Park, Egypt
Location: Aswan Governorate, Egypt
Installed Capacity: 1650 MW
Benban solar park is located in Benban village of Aswan governorate, Egypt, and is the largest solar project in Africa. Equipped with 41 solar power plants, the massive complex boasts a solar production capacity of 1.6 GW.
The development of the project was overseen by the state-owned New and Renewable Authority (NREA) and is in line with the Sustainable Energy Strategy 2035, announced by the Egyptian government.
The 9000 acres facility was connected to Egypt's National Grid in 2019, and currently powers over 4,20,000 households.

5. Tengger Desert Solar Park, China
Location: Ningxia, China
Installed Capacity: 1547 MW
The fifth-largest solar power plant in the world is in Ningxia, China. The facility boasts a capacity of 1547 MW and covers 1200 km of the Tengger desert.
Also referred to as the Great Wall of Solar, the farm is owned by the China National Grid and Zhongwei Power Supply Company. It became operational in 2017 and now fuels more than 6,00,000 homes.
Governments from across the globe are investing massive amounts of money into expanding their existing solar parks while setting up newer facilities to meet their energy goals. And each of them is vying for the top spot in terms of solar energy capacity.
We promise to keep you updated if the list changes! Till then share your thoughts on the world's largest solar power plants in the comments below.
FAQs
Also Read

About Ornate Solar

Ornate Solar is one of the leading solar companies in India with over 8 years of experience in the industry. We have partnered with the best-in-class global solar brands to provide you with a trustable, affordable, and reliable range of solar panels, inverters, and solar accessories.
We have also developed India's first Integrated InRoof system. Ornate InRoof is a roof made out of solar panels, which is leak-proof and looks aesthetically pleasing.
If you are exploring solar solutions, reach out to us at 011 43536666 to discuss your options.