Are you looking into getting your industrial roof repaired or replaced?
Maybe your metal roof has developed rust and is dripping water. You are likely worried the structure is on the verge of collapsing. Or perhaps you want to get the repairs out of the way before installing solar panels on top.
Be it for whatever reason, if you are thinking of removing your old sheet roof to get a new one, here's why getting a solar roof would be a much better alternative.
The Drawbacks of Sheet Roofing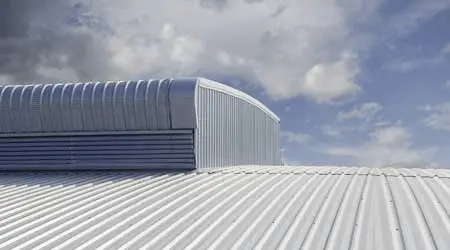 Metal roofs are lightweight, durable, and affordable. Such factors make them a popular roofing choice for industrial units. Though this type of roofing looks attractive in the short run, it can be prone to issues in the long term. This especially holds if you hope to install a rooftop solar plant in the future.
1. Leakage Issues
One of the most common problems businesses face with sheet roofing is leakage. Roof leaks can develop due to misaligned roof screws, corrosion, lack of proper sealing at the overlapping spots, etc.
The water that seeps through can be disastrous for the equipment, machinery, and stock. If water comes into contact with the electrical wires, this seemingly small issue can develop into a much greater safety risk.
One can opt for waterproofing, but it will be an additional expense.
2. Prone to Rusting
Be it steel, aluminum, or tin, when sheet roofing comes in contact with moisture, it begins to rust. There are protective coatings available to prevent this problem, but their effectiveness eventually subsides with time.
Galvanic corrosion is another type of deterioration associated with these roofs. It happens when different metal types interact in the presence of elements like rainwater.
3. Overheating
Metal roofs can overheat, which turns the interior of the building stuffy and warm. High temperatures can also become a major impediment if you install solar panels on top.
The amount of energy a solar panel generates is inversely proportional to the temperature of that module. If a panel gets too hot, your generation goes down. If an adequate gap between the solar panels and the sheet roof is not provided and they get too hot, the energy generation will go down.
4. High Roof Repair Cost
Metal roofs are not easy to repair. In case of serious damage, like corrosion or cracks and dents, the entire roof has to be replaced. This process is time-consuming and costly.
Further, if solar panels have been installed over the roof, one will have to remove and reinstall the entire system before starting on the repairs. The process adds to the maintenance cost.
5. Not Sustainable
Corrugated sheets are a popular choice for industrial factories and sheds. You can recognize them through their distinctive folds design. Even though they look good, their manufacturing process can be notoriously unsustainable.
Approximately 1.85 tons of carbon dioxide is emitted to produce one ton of steel sheet.
The Solution

We now know that metal sheets are less than ideal roofing material. Then what is the alternative? Solar Roof is your answer.
Installing solar power systems is a great way to generate clean energy and reduce electricity costs. You can also take care of your roofing needs through a solar roof. The great news is that one can install a solar roof, without damaging or removing the steel building structure under the previous roof.
Ornate InRoof- An
Integrated

Solar Roofing Solution

By integrating the panels into the roof itself, Ornate InRoof provides a unique solar solution. The structure that accommodates 26% more panels in the same area, not only generates energy but also functions as the primary roof for the building.
Here's how InRoof overcomes the challenges of sheet roofing and offers a better alternative.
1. Cost-Effective
Traditional solar panel installations place panels on mounting structures drilled into the roof. Since the InRoof structure works as the roof itself, it eliminates the need for sheet-roofing, thereby saving the cost of metal roofing and mounting structures.
A double layer of leak protection in the InRoof system ensures 100% safety against water ingress. The first layer is an aluminum top cover that prevents water from getting inside the shed. The second layer is a galvalume MG shield that redirects the water to the gutters at the corners. This water is moved down through a pipe system.
3. Corrosion Proof
InRoof structure is coated with a specially made material that is highly durable and fully rust-resistant. In case certain chemicals are used in the factory, the InRoof is tested against those elements.
For example, the Ornate team recently completed an InRoof installation in Ludhiana for a surface treatment chemicals factory called GEM Technologies. Both the structure and modules were tested against the substances before deployment to ensure safety and durability.
4. Better Area Utilization
In a traditional solar rooftop installation, a 1kW system requires an area of 100-130 sq. ft. But in InRoof, 1kW installation is completed within an area of 65-70 sq. ft. Thus, solar InRoof accommodates more panels in the same space.
5. Detachable Structure
We established that repairing a roof with solar panels is challenging, as modules are removed to get to the spot underneath. InRoof overcomes this issue through a snap-lock fastener that allows easy attachment and detachment of solar modules.
6. Prevents Overheating
Since there is no metal sheet underneath the panels, the airflow gap is maintained. This prevents the panel from overheating and results in 10% more generation than traditional setups.
Moreover, solar InRoof keeps the interiors a few degree cooler in comparison to metal roofing.
7. Aesthetically Pleasing
Installing solar panels on your roof may affect the look of the building. With InRoof, you have no such problem. As the structure seamlessly integrates solar panels into the roof itself, you get a futuristic and unique-looking roof design that can work well with all types of architecture.
Unlike metal roofs, the solar roof also allows light to pass through them which keeps the interiors bright and vibrant.
8. Customizable
InRoof structure can accommodate all types of solar panels. It can also be customized to suit all roof types, styles, and sizes.
9. More sustainable
Generating clean energy, solar InRoof helps a business lower its carbon footprint. By eliminating the need for sheet roofing, the structure prevents the emissions that would have been released during the manufacturing process.
Recent InRoof Installations
1. B.L Agro, Uttar Pradesh | 745Kw
With an annual turnover of over ₹2000 crores, B.L Agro has become one of the top FMCG companies in India. Ornate Solar commissioned a 745kW solar InRoof system at BL Agro's new production facility in Bareilly.
2. Pangaea Natural Stone, Rajasthan | 530 Kw

Pangaea Natural stone is a Canada-based natural stone manufacturing company. Ornate Solar commissioned a 530 kW InRoof system for Pangaea's 35,000 sq. ft. manufacturing facility in Bagru.
3. GEM Technologies, Punjab | 36kW

GEM Technologies is one of the leading manufacturers of Metal Surface treatment chemicals for paint-based applications, cold forming, and coil coating. Ornate Solar installed a unique hybridized roof integrated system for the company's new chemical factory in Ludhiana, Punjab, where solar panels and metal sheets are seamlessly integrated.
4. Fronius India Private Limited, Maharashtra | 17.5kW

Fronius is among the leading worldwide suppliers of solar grid-connected inverters. The company installed an Ornate InRoof system to use their underutilized roof space and turn it into a seating space, which also generates energy.
Where can I get InRoof?
Ornate Solar is India's leading solar company with 8 years of experience. We have also launched India's first integrated Solar InRoof- Ornate InRoof.
From the design conceptualized by the R&D team of Ornate Solar to all the components used in the structure, every aspect of InRoof is made in India. We also offer the longest industry warranties for your complete peace of mind.
If you are looking for an InRoof solar solution for your business, reach out to discuss your options and get a quote.
For more information, please give us a call at 011 4353 6666.