India has added 1.3 GW capacity through open access installations in the first half of 2022. In the January to July period last year, the country had created 638 MW of new open access solar capacity. Thus, compared to the first half of last year, a 97% growth was registered.
Moreover, the country has added 680 MW of open access solar capacity in the second quarter of 2022. This marks a 223% increase, in comparison to the 210 MW added in the second quarter of 2021.
These findings are based on the report published by research organization Mercom, titled, 'Mercom India Solar Open Access Market Report Q2 2022'.
Open Access is a system that allows consumers with a connected load of over 1 MW, to buy power directly from power producers through the open market. The electricity is generated in solar farms and other large-scale solar power plants and injected into the grid.
This way, consumers can buy solar energy at a reduced rate and eliminate their dependence on the local DISCOM.
The Mercom Report also states that as of June 2022, India's total installed open access capacity was over 6.5 GW. The top 5 states of Karnataka, Maharashtra, Tamil Nadu, Uttar Pradesh, and Rajasthan house 3/4th of this cumulative capacity.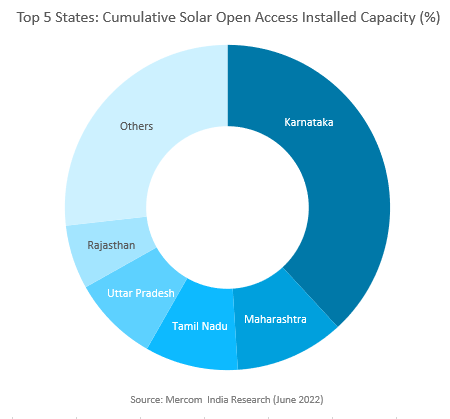 Further, during the second quarter of 2022, these top 5 states contributed to 91% of the total open access solar installations. Karnataka alone accounted for 44% of the installations in the quarter and 38% of the total installations in the year.
The report also notes that open access projects of about 2.8 GW are under the 'development and pre-construction phase'. The state of Karnataka has the highest number of open-access solar projects under development, currently.
Mercom's research attributes this growth in the open access segment, to the "increased focus on renewable purchase obligation (RPO) compliance" and "RE100 goals".
RPO has directed all electricity distribution licensees to produce or purchase a minimum specified quantity of their power requirements through renewable energy sources. Additionally, RE100 is a global commitment towards renewable electricity made by the most influential commercial and industrial businesses.
"Module supply concerns post the implementation of the Approved List of Models and Manufactures (ALMM) increased the developer's urgency to add to open access capacity despite a 40% basic customs duty (BCD) on modules and components" adds Mercom India
Apart from these factors, the report also notes that 'conducive policies' and 'timely approval by distribution companies' has encouraged open access additions in Karnataka and Chhattisgarh.
Priya Sanjay, the Managing Director at Mercom India remarks, "The green energy open access rules hold a lot of promise, and it is up to the states now to walk the talk. The demand for renewables through open access is mounting. Procuring renewables through open access is also helping businesses reduce their operating costs and carbon emissions."
Click Here for more updates ornatesolar.com
Resource: Mercom India