A report by Wood Mackenzie reveals that the global floating solar market will likely cross the 6 GW threshold by 2031.
WoodMac, a global research and consultancy group, found that PV developers are struggling to meet the rising demand for solar due to limited land availability and rising costs. As a result, developers are turning to alternate developing technologies like floating solar.
The research shows that the compounded annual growth rate (CAGR) for floating solar is expected to rise 15% in the next ten years. Moreover, 15 countries are expected to cross the 500 MW floating solar installation mark by 2031.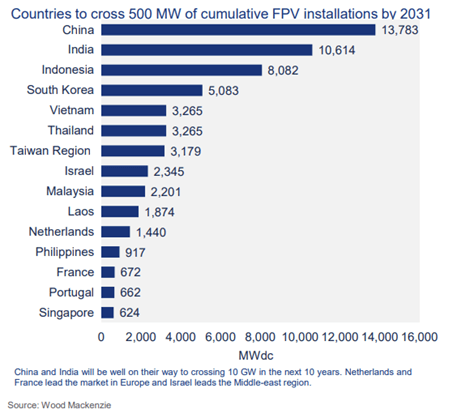 China, India, and Indonesia will dominate the floating market. The three countries accounted for 70% of the demand for floating PV in 2022. China and India might cross the 10 GW capacity mark in the next 10 years.
"The Asia-Pacific market had approximately 3 GW of floating solar projects in 2022, capturing over 90% of floating solar demand that year. Countries such as China, Indonesia, India, South Korea, and Thailand are developing multiple floating solar projects" states the report.
In Europe, Netherlands and France have taken the lead. In the Middle East, Israel has emerged as the top developer. Additionally, the USA might witness a CAGR of 13% for floating solar over the next 10 years.
Floating solar installations in India have witnessed significant growth in recent years. The country has its largest floating photovoltaic (FPV) facility, with a capacity of 100 MW in Telangana. What's more, Madhya Pradesh is currently building the world's largest floating solar plant of 600 MW!
Click Here for more updates
Resource: Saur Energy