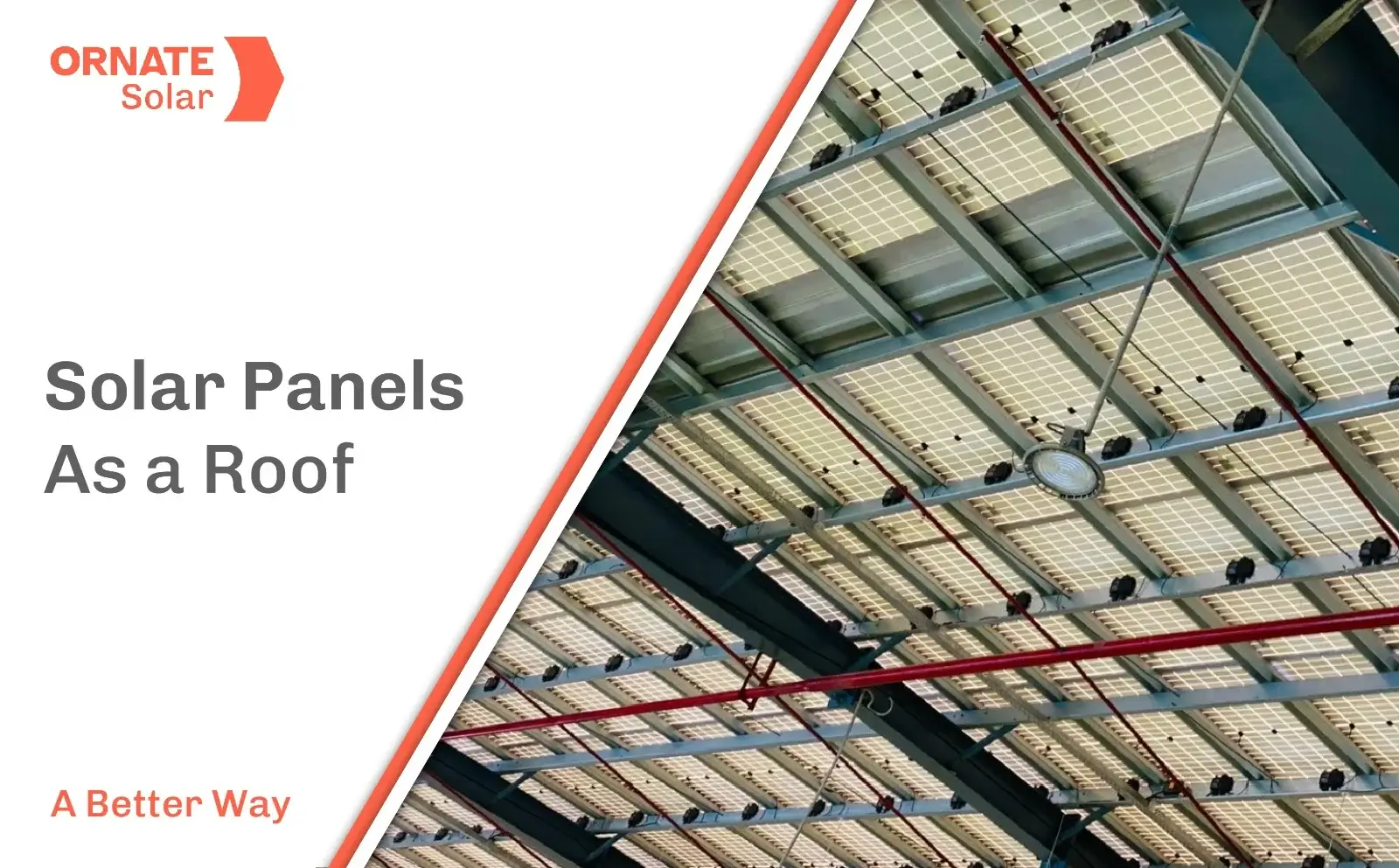 India's first integrated solar roof is here.
Ornate InRoof is a fully integrated roofing and solar energy system that eliminates the need for sheet roofing. As a result, if you are setting up a building or replacing your old roof and want to go solar, Solar InRoof is a good place to start.
Now you may be thinking- What are the advantages of such a system? And how is it different from traditional rooftop installations?
Let's answer these doubts.
Benefits of the Solar InRoof solution
Better Area Utilization- Ornate InRoof accommodates 26% more panels than traditional solar power systems and generates 10% more electricity.
Leakproof System: A special climate-resistant seal in Ornate InRoof ensures a fully waterproof structure that is durable and will last for more than 25 years.
Lower Energy Bills and Other Savings: By harnessing the sun's energy rather than drawing from the grid, solar roofs can considerably reduce the cost of your energy bills.
Seamless Installation: You can increase energy efficiency while protecting the structural integrity of your roof with an integrated solution. Solar panels on a roof require bolts drilled into the roof's surface to secure the installation. With an integrated system, there's no need to drill into your shingles.
Better Pest Protection: Pests can crawl about and hide in mounted racks. Birds enjoy building nests in the shade of solar panels that are put on the roof. Pests have no place to burrow or live with an integrated solar roof.

Difference between Solar InRoof Systems & Rooftop Solar

Solar Roof is a roofing and solar energy solution that is fully integrated. Once installed, the solar panels themselves will become the primary roof of the building.
There is no panel racking and only a small amount of exposed conduit. In brief, with Solar Roof, your rooftop is unaffected in terms of aesthetics and looks fantastic from any perspective.
In a traditional solar setup, solar panels are linked to a racking system and sit several inches above the current roof surface.
Multiple panel configurations are available, ranging from all-black to black with a silver frame. Racking is usually made of black anodized aluminum. Even though a solar system in any form will help in generating clean energy, a traditional system will not enhance the aesthetics of the building.
Solar InRoof systems can accommodate 26% more panels in the same roof area as compared to traditional solar energy systems. This leads to better area utilization. Moreover, this innovative structure generates 10% more energy than the usual power plants. Further, the solar InRoof uses underutilized spaces such as industrial sheds, warehouses, as well as rooftop restaurants, carports, corridors, pergolas, etc, and turns them into mini-powerhouses.
The cost of a solar roof is determined by the combination of two factors: roofing materials and solar components. Keep in mind that not all solar roof tiles generate electricity. Roof size and complexity have a significant impact on final pricing in both categories. The cost range for roofing is depending on the complexity of the roof. The bigger the number of solar tiles in a design, the higher the price and power output. Customers can choose any amount between the two figures that they can afford.
Our Recent Ornate InRoof Projects:
1. B.L Agro- Uttar Pradesh
Plant Size: 745kW
2. Pangaea Natural Stone-Rajasthan
Plant Size: 530kW

3. Ashirvad Pipes-Karnataka
Plant Size: 91kW

4. GEM Technologies- Ludhiana
Plant Size: 36kW

5. Fronius India Private Limited-Pune
Plant Size: 17.5kW

Also Read
Who Can You Contact for This Product?
Ornate Solar provides a unique solar experience with its new product "Ornate InRoof ". Solar panels with a new unique structure can be utilized to replace outdated roofs, making your home more energy-efficient and attractive.
The structure can also be fully customized as per your requirements. We deliver across residential, commercial, and industrial segments.
For more information, please give us a call at 011 4353 6666.